---
I have read that as people began planting their food, as opposed to hunting and gathering for it, the first kitchen gardens began.  With that in mind, we might call any place where we grow food a kitchen garden–what the French would call a potager.  Yet, in my mind, a kitchen garden is a spot where edibles, herbs, and flowers are intermingled. '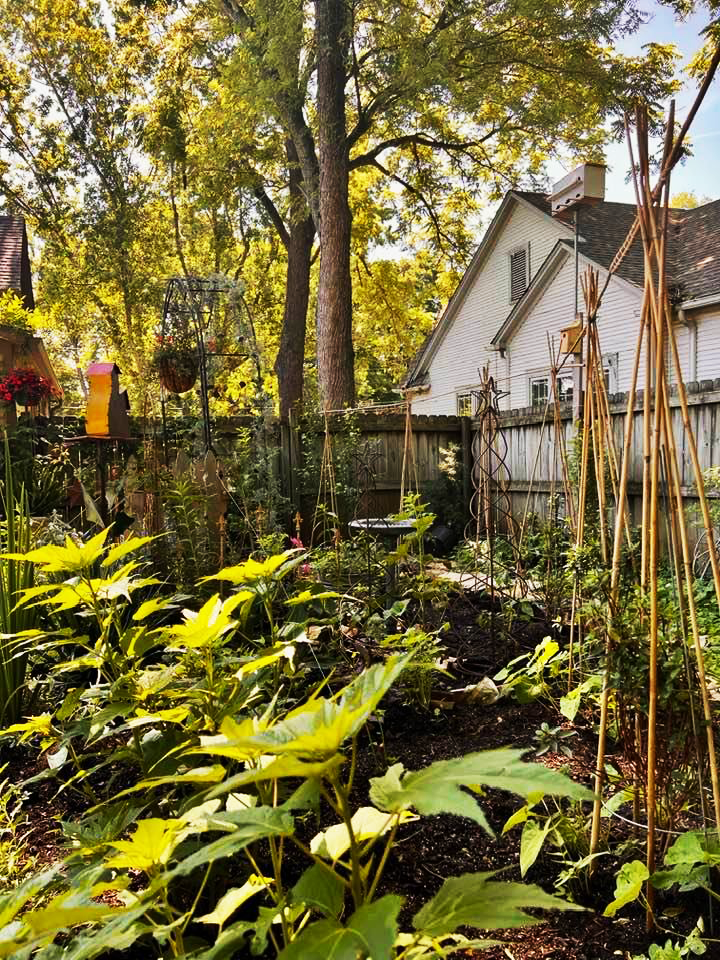 Bean Pole Borden in Jacki Kellum Kitchen Garden June 2022
Squash and Mini Pumpkins are planted on these bean poles, too. There are tomatoes growing inside 2 of them. Canes link all the teepees together. These bean teepees are a new edition to my 2022 cottage garden. Although you cannot see it in the above photo, perennial flowers and herbs are interspersed with the bean poles. In my opinion, a kitchen garden is nothing more than a cottage garden where food is grown along with the flowers,
On the other hand, a strict vegetable garden is a more utilitarian plot, where nothing more than rows and rows of things to eat are planted, but a kitchen garden is not formal. It is fluid and flexible, and it is a place where form and fancy marry,
I grow several types of beans on my teepees,
Scarlet Running Beans in my Kitchen Garden 2021
I grow regular green Kentucky Wonder pole beans, and they have white blossoms, But I also grow scarlet running beans which have gorgeous red blossoms.
Super Sweet 100 Cherry Tomato Vine Growing up my rose trellis, along with morning glories, in my 2021 kitchen garden. The red blooms in the above photo belong to my pineapple sage, which is a type of herb.
From what I have read, our early settlers planted kitchen gardens.  When the Europeans first arrived in America, they found a wild and cruel terrain.  Certainly, planting food was crucial for the physical survival of the first newcomers to America.  I understand that herbs, fruit trees, and flowers were also part of the early gardens.  The herbs, the fruit, and the vegetables were important to feed and sustain the body. The flowers fed their spirits.
Lady Gardensong in my kitchen garden, just after I planted it in 2021.
Another Lady Gardensong in fall,
What Is A Kitchen Garden or Potager?