---
September 3, 2021 – Jacki Kellum Garden Notebook
Coral Red Dogwood Shrub – Image Credit: My Gardening Life
Today, I pruned away some of the dying branches on my Coral Red Dogwood shrub. I bought this gem on clearance, after the 4th of July. At that time, it was a massive plant, but after I transplanted it into my garden, it immediately lost all of its leaves and it began to shrivel and die. I trimmed away all of the dying that I saw at that time, and the bush began producing new growth. But today, I recognized that some of those pruned twigs had begun to die back further. Again, I pruned away the dying twigs, and after that, I transplanted the shrub again. This time, I transplanted into a spot where it will have more room to grow, but that spot was from a spot where I'll be able to enjoy the bush's winter color from behind my glass doors, long after winter has arrived.
"The coral red dogwood, known as the Cornus sanguine or the red twig dogwood, is a shrub species with remarkably red bark. While these species are incredibly similar, the coral red dogwood never grows into a tree. This dogwood is known for its spectacular colors in a winter garden, and the coral red dogwood looks best when planted in groups or as an informal hedge. Some coral red dogwood shrubs grow all around the Northern Hemisphere, all classified under the genus Cornus like the Tatarian dogwoods in Asia, the Red osier dogwoods in North America, and the Bloodtwig dogwoods in Europe. …

Coral red dogwoods grow up to eight feet tall, with a spread area of eight feet; these red dogwood shrubs bear either dark green or variegated leaves depending on the variety, and tiny white flowers that form flat clusters only for white berries to succeed them. The foliage picks up hints of rose or gold, but since the leaves are deciduous, the attractive red bark is only visible when the leaves fall. Since they are generally nursery-grown plants in containers or ball-and-burlap specimens, coral red dogwood shrubs are among the faster-growing types in the dogwood family, adding at least two feet of growth each year. Ideally planted where they provide an easy view, one can position coral red dogwood shrubs against a wall that receives ample sunlight from the south or west in winter. A fitting combination is the yellow twig dogwood for a stunning display. But whether there are its yellow cousins or not, coral red dogwood shrubs are better to look at when grown in masses, and their widely-spreading root systems render them effective as erosion control.

As one of the few shrubs that survive in boggy conditions, red twig dogwoods have a good tolerance for most soil and light conditions, with the production of new stems having the best color. To retain the coral red color, keep a systematic routine of removing the oldest branches, and plants can handle a bit of trimming to help rejuvenate their growth. Its preferences include partial shade or full sun, moist soil, low spots along streams or ponds, and a wide range of temperatures. Hardwood cuttings in the late fall may take up to a full year for the cutting to root, but once fully embedded, go right ahead to planting saplings in the landscape."

Notes from Tennessee Wholesale Nursey
Image Credit Gardenia.net
Last year, I bought several Prairied Fire Dogwoods, and for one reason or another, they have never flourished in my yard. Today, I moved my Prairied Fires around my Coral Red. I want to create a winter feature that looks like the one in the photo above.
Prairie Fire in Early Spring – Image Credit: Van Belle Nursery
Neither the Prairie Fire nor the Coral Red Dogwood bushes have the fabulous, large, white blossoms that we celebrate during the spring.
[Note: the leaves are more of a light green during the summer]
"The Prairie Fire Dogwood is an orange-red twigged dogwood that has incredibly yellow foliage all during the growing season. At its maturity this plant gets to be about 5-6′ tall and wide. This dogwood is very urban tolerant, and drought resistant. The pointed yellow foliage is retained in the sun, but becomes more chartreuse in the shade. With the traditional red stems in the winter, this beauty is colorful in the yard any time of the year. Small creamy white flowers arrive in May and then are preceded by the white berries in the summer. This dogwood works well with the darker greens and finer textures of evergreens."

Notes from McKay Nursery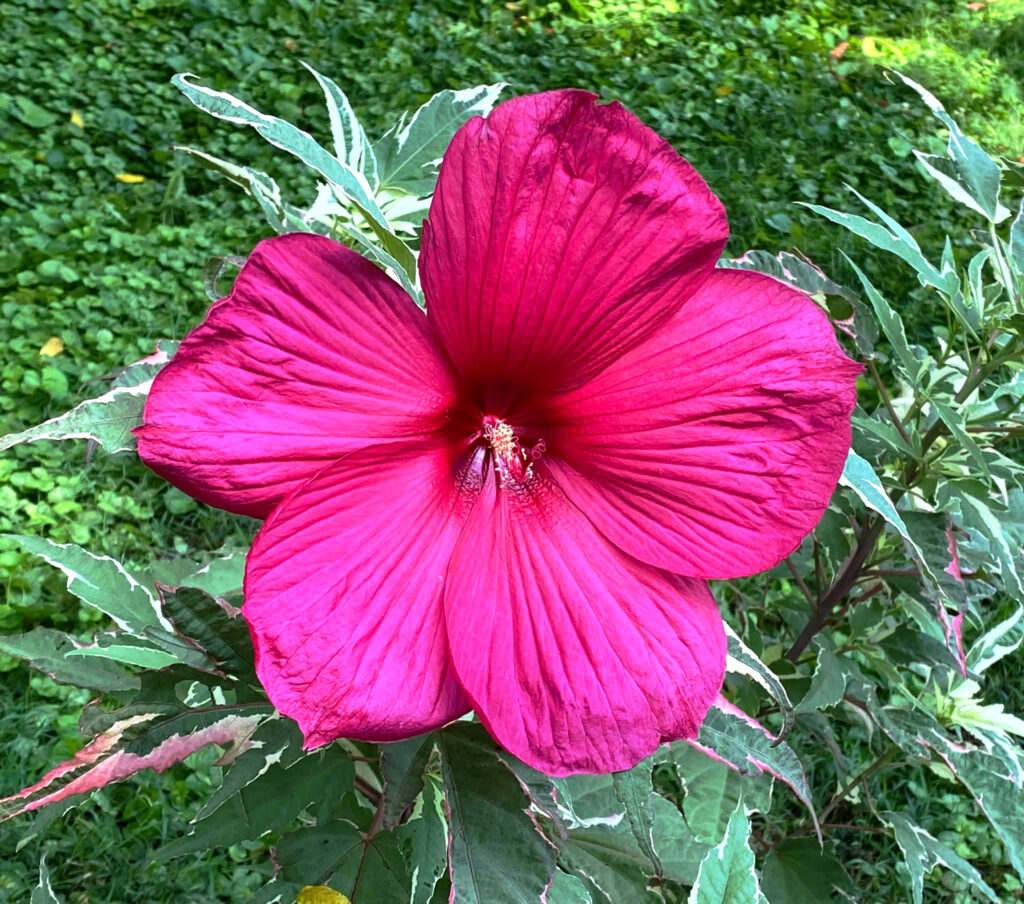 Hardy Hibiscus Summer Carnival in Jacki Kellum Garden
I also moved my hardy hibiscus Summer Carnival back a few feet. It needs a little more space to grow, too, and I also wanted to allow more space in front of it to add some other, slightly shorter perennials in front of it next year. Summer Carnival will grow to be 0ver 4′ tall and over 5′ wide.
I love the variegated leaves of Summer Carnival, and behind that plant and a bit to the right of it, I have planted the Camellia Yuletide, which has dark and glossy green leaves that will frame the lighter leaves of Summer Carnival nicely.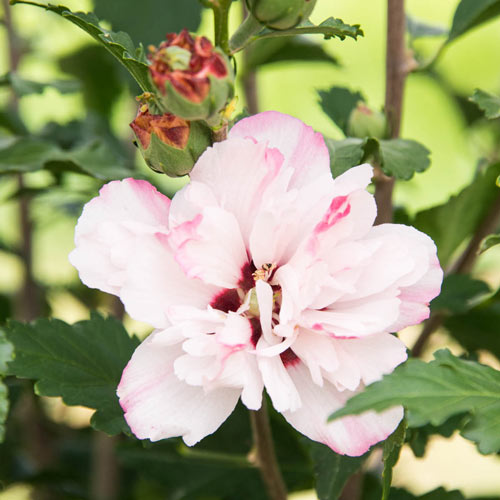 Peppermint Smoothie Althea – Image Credit: Michigan Bulb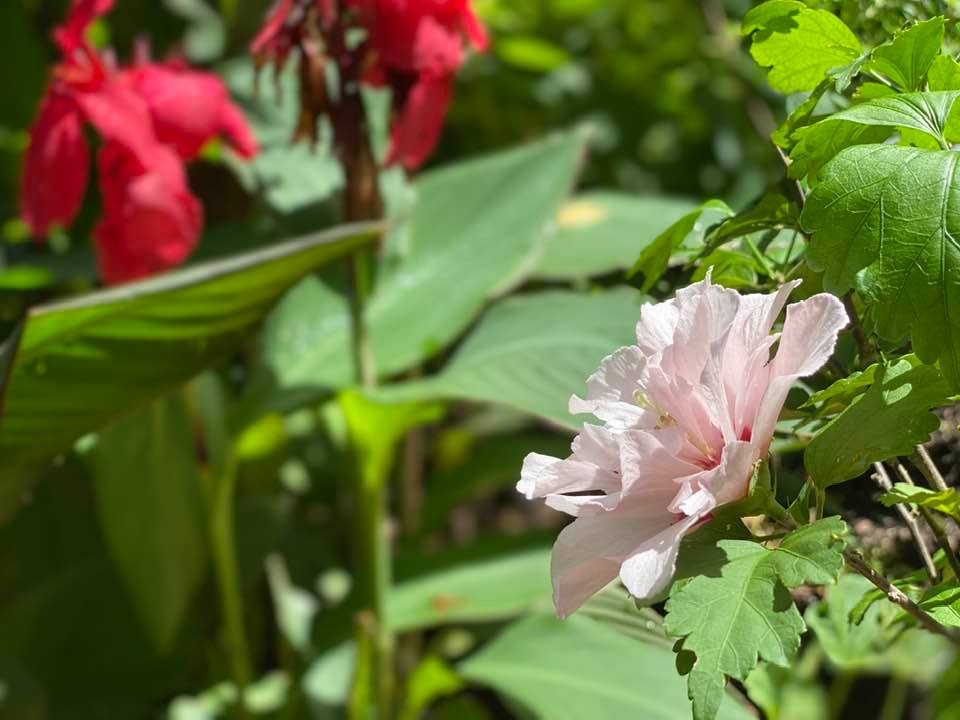 Althea Peppermint Smoothie in Jacki Kellum Garden
And while I was moving things, I moved my Althea Peppermint Smoothie to the far, back of my garden, to a space behind my waterfall.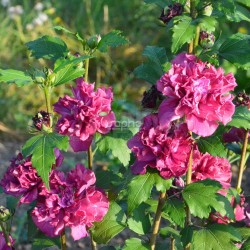 I also moved my althea French Cabaret Red back to that area. That red althea is more of a dark pink. It looks very much like my. althea Lucy.
While yesterday, I moved several of my other plants, today was another moving day. Most importantly, today I began cultivating the very back of my garden–back closer to the edge of the very back of my yard. Before today, I had planted everything as close to my patio as I could. Like a display of glistening marbles on a window sill, I lined up all my plants in a row. I wanted them close, so that I wouldn't miss a thing. But I knew that I would have to move some of those plants–sooner or later. I knew that my tallest plants, like my altheas and my camellias, would need plenty of room to grow, and I moved them to places where that could happen. But in staggering the plants around the back of my yard, I have also begun drawing a viewer's eyes throughout my entire yard.
Moving Day: Shifting Some of My Larger Plants to Places Where They Will Have More Space – Jacki Kellum Notebook – September 3, 2021