---
September 4, 2021 – Saturday
Pipeline Swallowtail Blue – Google Image
When I walked outside this morning, the first thing that I saw was a black and brilliant blue Pipeline Swallowtail Butterfly. It dipped and darted almost into my face, and then, it quickly dashed away. Earlier during the summer, I saw this same type of butterfly several times each day, but for the past few wees, they had seemed to have disappeared. I had even bought Mrs. Pipeline several parsely plants. I had hoped that she would lay her eggs here, but even though I have also planted lots of Swamp Milkweed this year, I have not seen one butterfly caterpillar of any kind. But today, I was happy to see this beautiful specimen zipping flit through my yard, if only for a minute.
The main butterflies that I saw today were small and a brownish, dark orange. They seemed to be playing cat-and-mouse,  But I soon realized that the one doing the chasing was probably trying trying to mate with the other one. They weren't just playing tag. Moments later, I noticed that a couple of bumblebees were sipping from the last of my Arctic Fox's last, light pink cups. Soon, they flew over and drank from my dark, velvety red dianthus blossoms, but while I was watching them, a common, brown wasp dipped down to grab a drink of water from the water-hole that I've placed beside Peter and Mrs. Rabbit.
At Christmas time, Peter and Mrs. Rabbit lived inside my house. That was before I created my garden shrine outside for them, and now, they are in the permanent home, outside.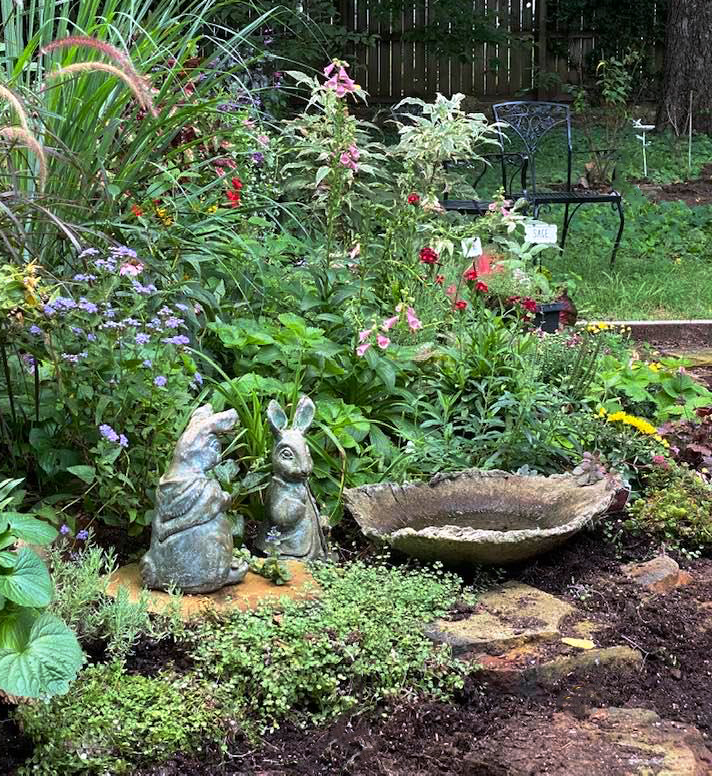 I created this space in honor of their creator Beatrix Potter. In many ways, Beatrix Potter is my patron saint. I love that she was a gardener and a naturalist and that her stories and her illustrations were often inspired by her garden. I sat this morning writing about my admiration for Beatrix Potter, and as soon as I looked up from my writing, the brilliantly blue Pipeline Butterfly swept past me again. Amen.
September 4, 2021, Butterflies and Bumblebees and Beatrix Potter: Amen – Jacki Kellum Garden Journal