---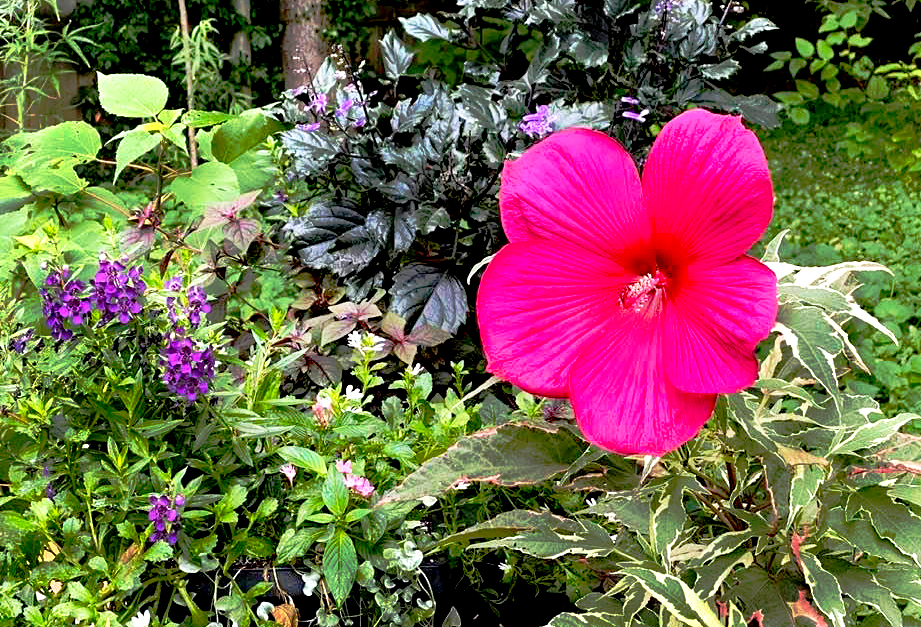 During the summer of 2021, I discovered Summer Carnival, which is a variegated variety of hardy hibiscus.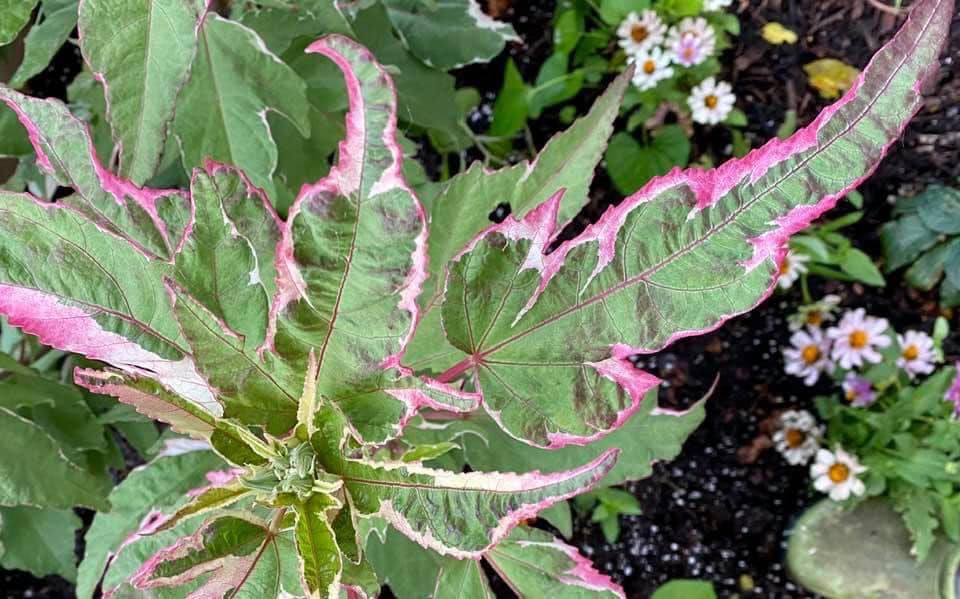 Summer Carnival Foliage
To be clear, it is the leaves of Summer Carnival that are variegated and not the blooms.
The foliage of Summer Carnival is a range of soft avocado-like or olive greens,, tinged with soft yellows, ivories, pinks, and magentas.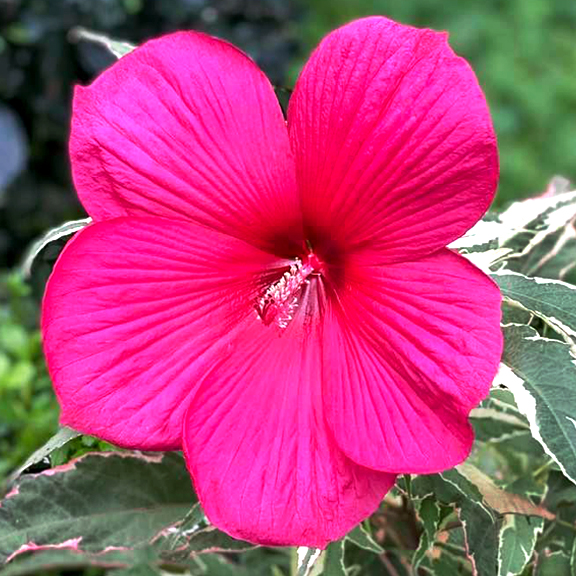 The blossom of Summer Carnival is a a deep, rich magenta-like dark pink.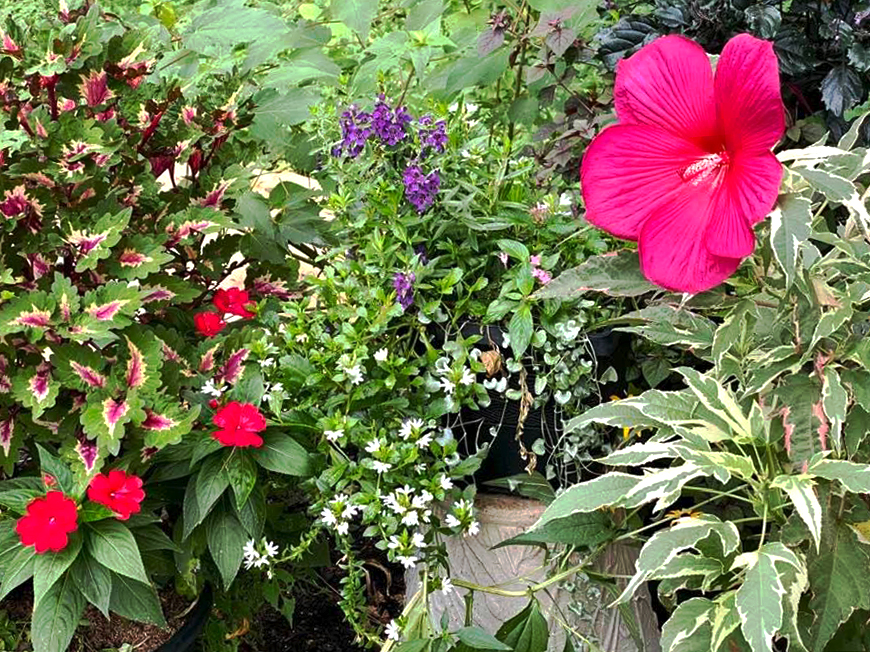 Although Summer Carnival is gorgeous when planted alone, It works fabulously as an accent, when used along with other hibiscus plants and with other container plantings.
The blue in the middle of the above photo is Angelonia, and the white is Scaevola. They are planted in a container.
Contrast In Gardens Is Essential for Visual Appeal
Behind the Angelonia container, another container contains Iresine and Velvet Idol. Those darker colors provide excellent contrast for the grouping.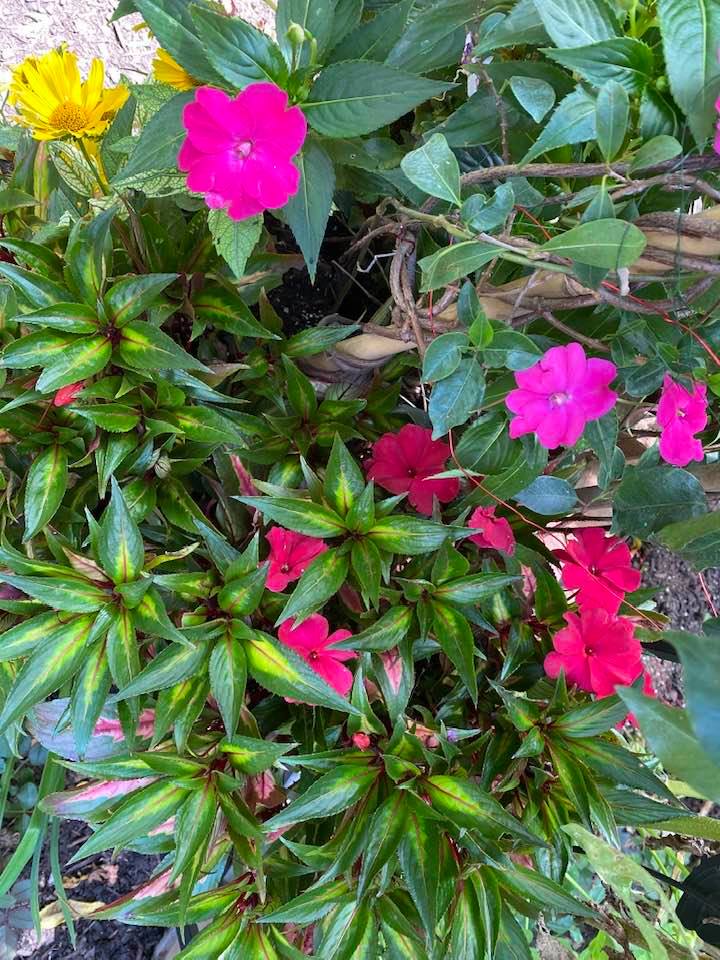 In the above photo, you see darker pink impatiens with solid dark green leaves planted in the same container as Tropical Rose impatiens, which have variegated leaves.
I love variegated accents in m garden, but remember this truth, variegated plants should be planted along with some plants that are not variegated.
If Every Plant Is Variegated, There Is Not Contrast.
The word "accent" suggests that something about a thing makes it stand out. If every plant is variegated, you lose the element of accent in the garden.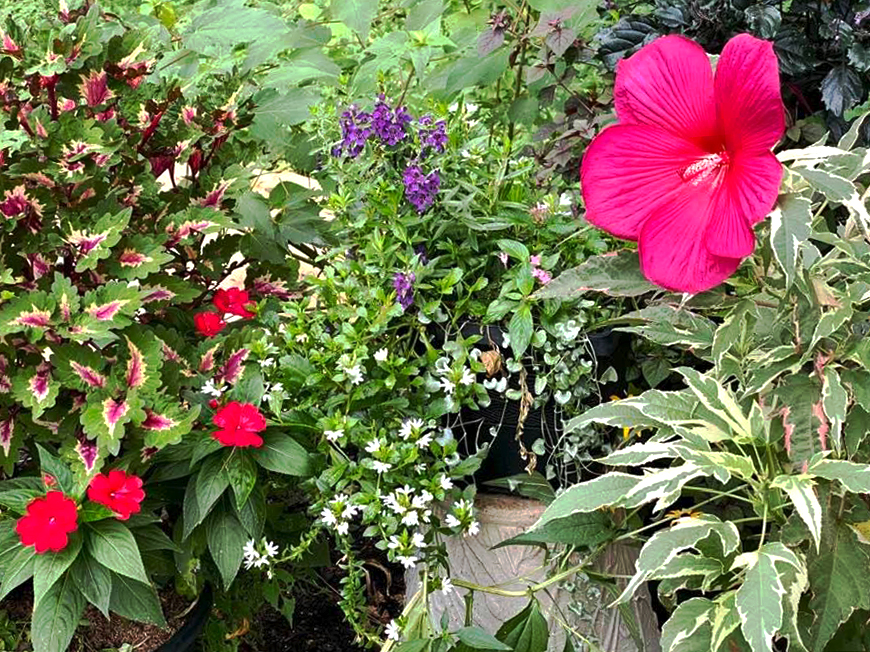 In the above photo, you see red impatiens and Pinkplosion coleus planted in a container on the far right.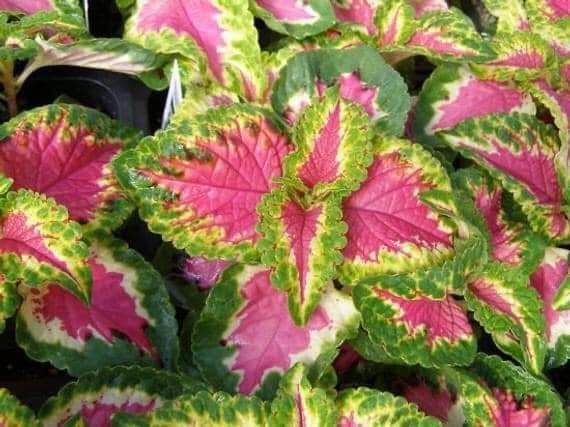 Coleus Wizard Rose
The foliage of Summer Carnival looks very much like that of the coleus Wizard Rose, which is probably my favorite coleus.
Summer Carnival has the advantage that is is hardy, or perennial. Coleus plants are not winter-hardy in most climates. Summer Carnival also sports a large, 7″ bloom.
Variety in Gardens Is Essential
In the above photo, notice that the containers are sitting on varying heights of other containers. Staggering the heights of plantings in my garden is part of its visual appeal.
Springhill Nursery sells Summer Carnvial, and here is what they say about this unique specimen:
"Hibiscus are normally known for their lovely, late-season blooms, and Summer Carnival's are no exception. However, even when it's not in bloom, this cultivar is still impressive. It has variegated foliage, which is unusual on hibiscus, and even more so on winter-hardy native hibiscus. There's a slight pink touch to its leaves, which complements the flower color nicely. In colder climates or with cooler nights, the pink tone is even more noticeable. This hibiscus adapts easily to many soil types, except especially dry soils. Deer generally don't bother it either, but butterflies adore the blooms. It is a Hibiscus mosecheutos, a herbaceous variety, so it'll die back to the ground in winter and grow new in spring. It takes time to break dormancy, but with a little patience, you'll have a jaw-dropping feature. This is a very new cultivar, and although we're proud to be one of the few able to offer it to the American home gardener, our quantities are limited. Hibiscus moscheutos 'Summer Carnival' PPAF'"
Summer Carnival Product Details from Springhill Nursery
Botanical Name:

Hibiscus moscheutos 'Summer Carnival' PPAF

Form: 

Shrub

Sun Exposure: 

Full Sun, Partial Shade

Height/Habit: 

36 – 48 inches

Spread: 

4 – 5 feet

Spacing: 

4 – 5 feet

Hardiness Zone: 

4-9

Flowering Date: 

Mid summer to Early Fall

Planting Instructions: 

Dig a hole large enough to accommodate the roots without bending them. Work soil around the roots, firm well and water thoroughly.

Winter Care: 

Mulch heavily the first winter

Shipped: 

#1 BAREROOT

Growth Rate: 

Fast
Flower Color: 

Red [I disagree and say that they color is a dark, rich pink]

Flower Form: 

8″ Cup shaped flowers. Petals overlap each other on 1 side.

Foliage Type: 

Green and white variegated leaves with pink highlights

Resistance: 

Deer Resistant

Pruning: 

Can deadhead to improve the appearance of the plant. Last years growth can be cut down in late winter/early spring.

Soil Requirement: 

Moist, well drained soil. Adapts to most soil types except exceptionally dry soils. Tolerates wet soils. Marginal aquatic plant.

Additional Information: 

Hibiscus are slow to break dormancy, so be patient, while watching for new spring growth.
When will my order ship?
Plants will be shipped at the proper planting time for your area of the country during the shipping timeframes outlined below:
2021 Fall Shipping Schedule
Zone
Select Hibiscus
1A – 4B
10/4/21 – 11/12/21
5A
10/4/21 – 11/12/21
5B
10/4/21 – 11/12/21
6A & 6B
10/4/21 – 11/12/21
7A
10/4/21 – 11/26/21
7B
10/4/21 – 11/26/21
8A & 8B
10/4/21 – 11/26/21
9A – 10B
10/4/21 – 11/26/21
Last Order Date
Zones 1A-6B: 11/8/21
Zones 7A-10B: 11/22/21
Hardy Hibiscus Summer Carnival & Other Variegated Varieties of Hardy Hibiscus