---
I moved back to Mississippi this past spring, and for most purposes, I was too late to get a significant garden started, but according to the  following bulletin from Mississippi State University Extension Service, I am not too late to plant pumpkins.
"Pumpkins planted in spring, when summer squash, cucumbers, and melons are planted, mature in midsummer, long before Halloween. If left in the garden, they rot. Therefore, they must be harvested and used or stored in a cool, dry place. Pumpkins for Halloween are best planted in late June and early July. They require 90 to 110 days from planting to harvest."
"Pumpkins." Mississippi State University Extension Service, extension.msstate.edu/vegetable-gardening-mississippi/vegetable-varieties/pumpkins.
This same bulletin lists the following varieties of pumpkins:
Varieties
Autumn Gold—hybrid; early; 7 to 10 pounds; fruit begin turning gold at an immature stage; AAS 1987.
Big Max—50 to 100 pounds; fairly round; pinkish orange; rough.
Connecticut Field—20 pounds or more; fairly round; deep yellow-orange; thin, hard shell; thick, coarse flesh.
Cushaw—12 pounds; skin cream-white mottled with irregular green stripes; bulbous blossom end with medium-long curving neck; thick, sweet flesh.
Jack Be Little—miniature pumpkin; 3 inches across, 2 inches high; not edible; for decoration only; small pumpkins last several months.
Jack O'Lantern—10 pounds; medium orange; smooth, shallow ribs.
Prizewinner—hybrid; traditional color and shape; up to twice as big as Big Max.
Spirit—hybrid; 12-inch diameter; 10 to 15 pounds; deep oval; bright orange; semi-bush; AAS 1977.
Spookie—small; average 6 pounds; dark orange; thick, fine-textured, sweet flesh.
Triple Treat—6 to 8 pounds; round; thick flesh; seed with no hulls.

("Pumpkins")
Although I have a big, sunny yard in Mississippi, it is currently covered with Bermuda grass, and that is a terrible grass to dig into. Next year, I'd like to plant all of the above varieties of pumpkins, this year, I am only planting the following: Cinderella pumpkin, Sugar Pie Pumpkin, Jack O Lantern pumpkin, White Queen pumpkin, Cushaw green & white striped squash, Jack Be Little pumpkin, and Baby Boo pumpkin.
Cinderella Pumpkins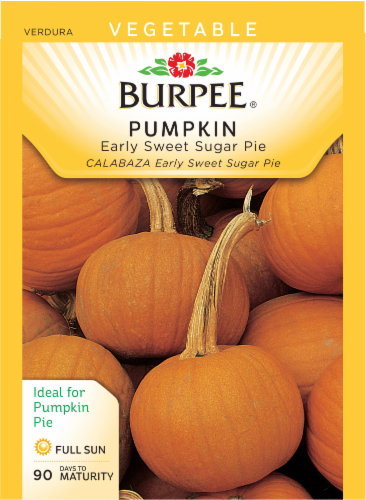 Sugar Pie Pumpkin – Image Credit Burpee
Sugar Pie is an heirloom pumpkin. It has been the source of great pumpkin pies since at least the 1800s.
Sugar Pie pumpkins grow to be 6 to 7 pounds.
Jack O Lantern Pumpkin  – Image Credit Burpee
Jack O Lantern Pumpkins grow to be 18 to 24 pounds.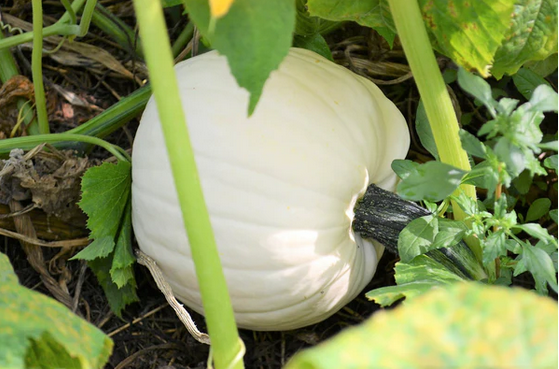 White Queen Pumpkin  – Image Credit Tomorrow Seeds
White Queen Pumpkins grow to be 5 to 10 pounds.
Cushaw Green & White Striped Squash  – Image Credit Annie's Heirloom Seeds
Cushaws grow to be 10 to 20 pounds.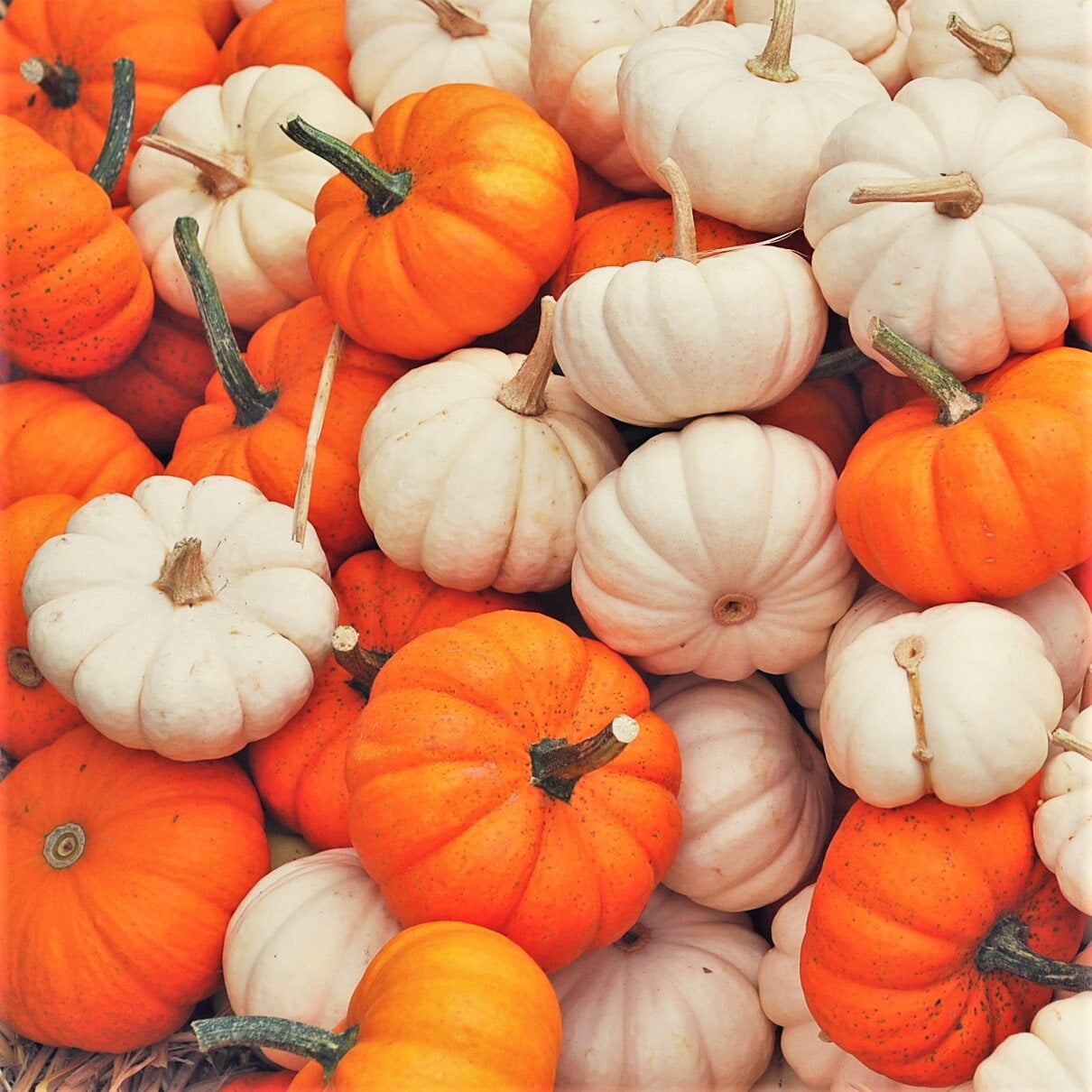 Image Credit: Tomorrow Seeds
'Baby Boo' pumpkin – white
'Jack-be-little' pumpkin – orange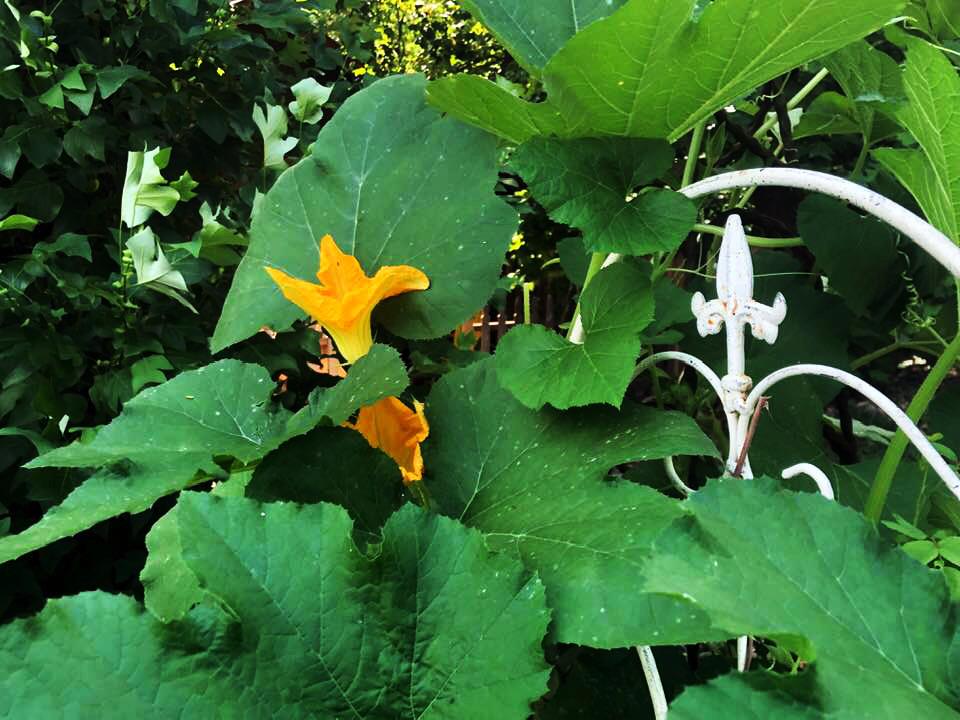 Miniature Pumpkin Blooming in Jacki Kellum garden
Baby Boo and Jack-be-Little are those tiny pumpkins that people use to make wreaths. I ordered my seeds from Amazon.
Growing Pumpkins in Mississippi