---
Someone  asked me about an iron piece that she had spied peeking from behind the mature plants in front of it. I told her that I'd share some of the places that I have used similar iron panels. I believe that they were originally part of old iron fences. I attach the panels to some other structure that is a bit more secure than the iron panel would have been with no support at all. I use florist wire for that job. Florist wire is my favorite tool. I use several spools of it each year.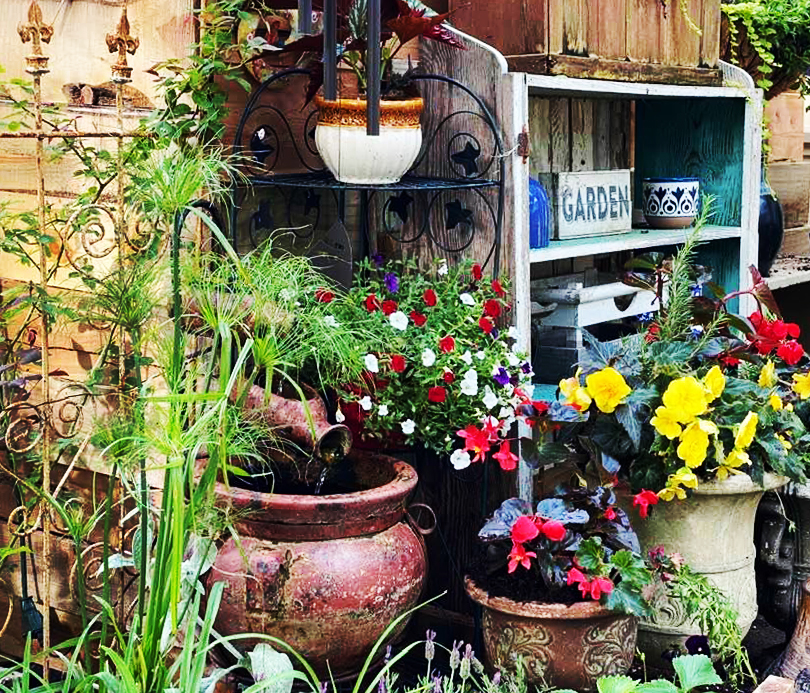 The above photos show one of those iron panels. It has fleur de lis pieces at the top. I have several of this type of panel here and there around my garden. I use them to stake all types of things up. The fountain area in the above photo shows the panel before King Tut papyrus grass and my climbing rose Zepherine Drouhin covered the iron piece.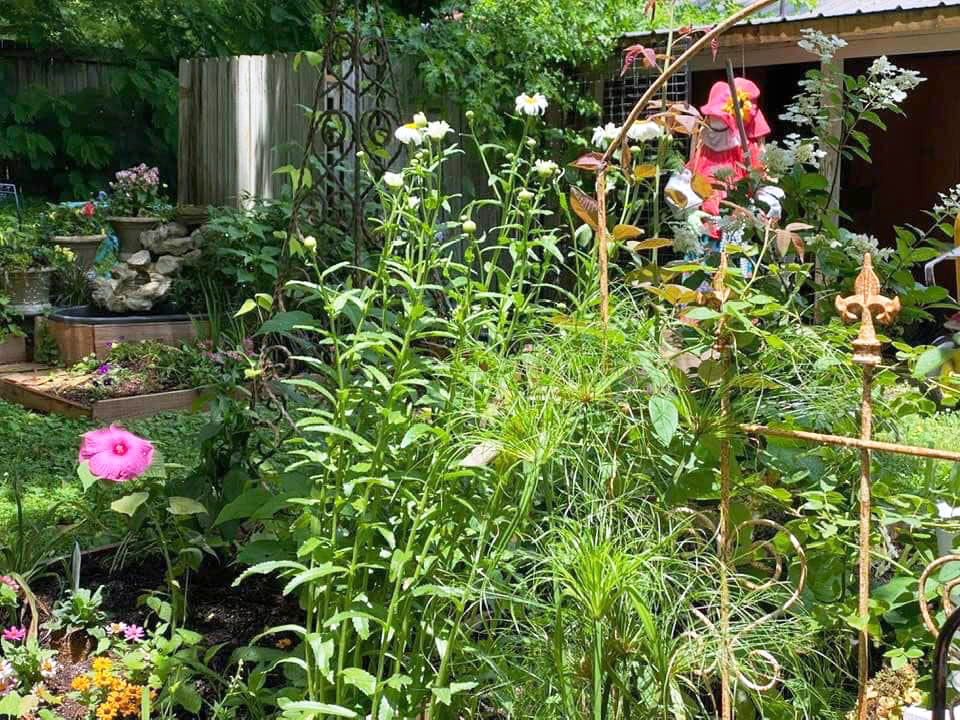 The above photo shows the same spot after King Tut had grown.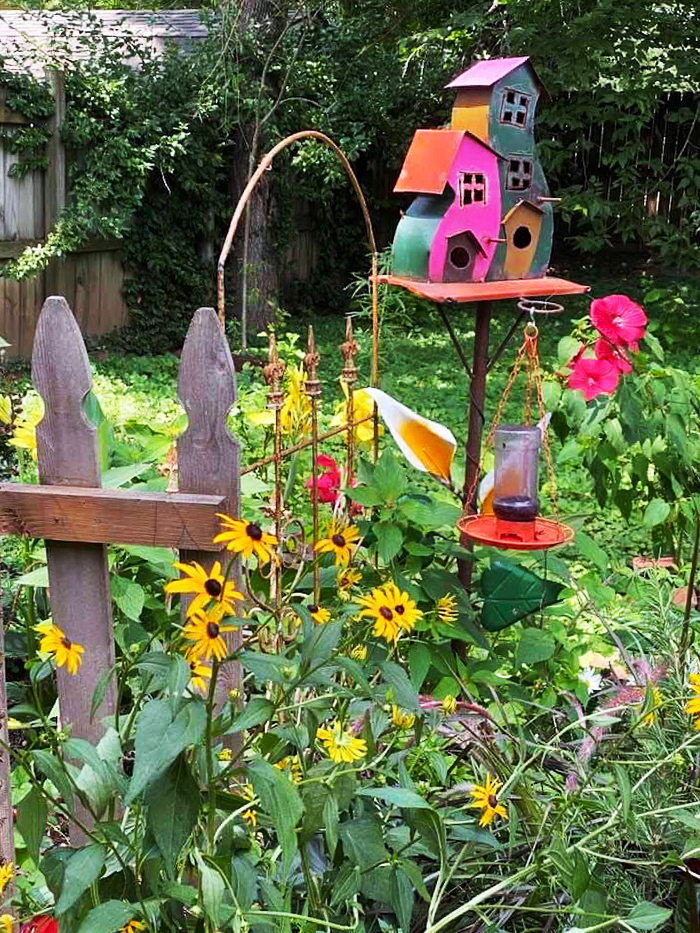 The above photo shows another place where I used an iron panel. `
Now, here's my secret: That Iron panel is wired to an old piece of picket fence [also which I salvaged] that is wired to my big iron arbor that is wired to a longer piece of picket fence. There's a nail somewhere beyond that, but most of it is a florist wire structure.
Here's a great nougat of truth: Don't let the perfect be the enemy of the good. Here's another bit of inspiration: Just go for it. I am a 71-year-old female, and this year, I have built tons of things: I built 2 outdoor walls, fences, raised beds, etc. None of my building projects are perfect, but they work. The plants camouflage the rough spots of the garden structures that I build. If the worst happens and it all falls down, I'll just wire it back up again. Correction: I'll do that unless I've changed my mind entirely, and I just want to try something else.
Permanence is overrated. Permanence prevents invention of something better.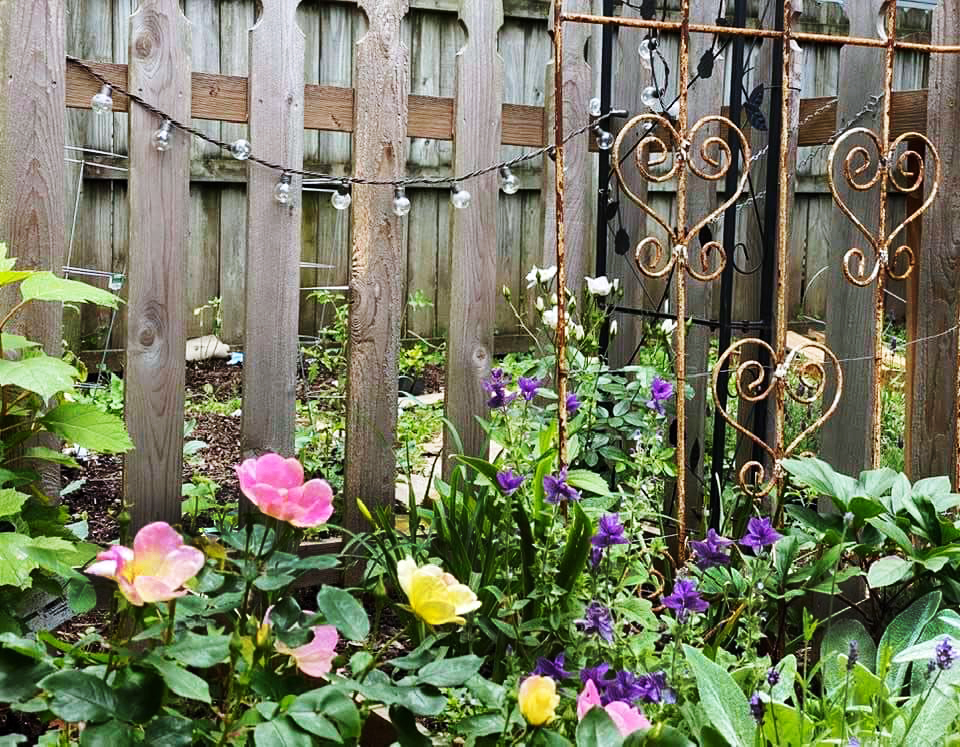 The above photo shows the longer piece of picket fence before my cucumbers filled in that area.
The above photo shows that same area after things have grown and have better filled in the area. Side note: That rose is Sunburst.
The above photo shows that same area after the cucumbers covered it. This photo also shows you a glimpse of the secure fence where my house of cards is more permanently attached with nails and screws. I also nail and screw the wooden pieces to the boards in my raised beds.
The above photo shows you a night view of where one area is more permanently attached to a privacy fence that was built to stand forever.
The above photo shows that same area in the light of day. The panel that is attached here is attached both to the house and to the privacy fence.
The above photo shows one of the panels that has been covered by grape tomatoes. A clematis is peeking through.
The above photo shows that entire fence panel to picket fence to arbor set up.
Better Homes and Gardens says that using vintage and rustic touches in a garden is an element of a cottage garden, and if I can say nothing else, I must say again and again, I am a true cottage gardener, and I grow a Black-Eyed Susan kind of garden:
Scarecrow in Jacki Kellum Garden
At the end of the day, I enjoy propping up my feet and simply allowing my garden to fill my soul.
Using Rustic, Vintage Fence Panels, Gates, & Other Salvaged Pieces As Trellises In My Garden