---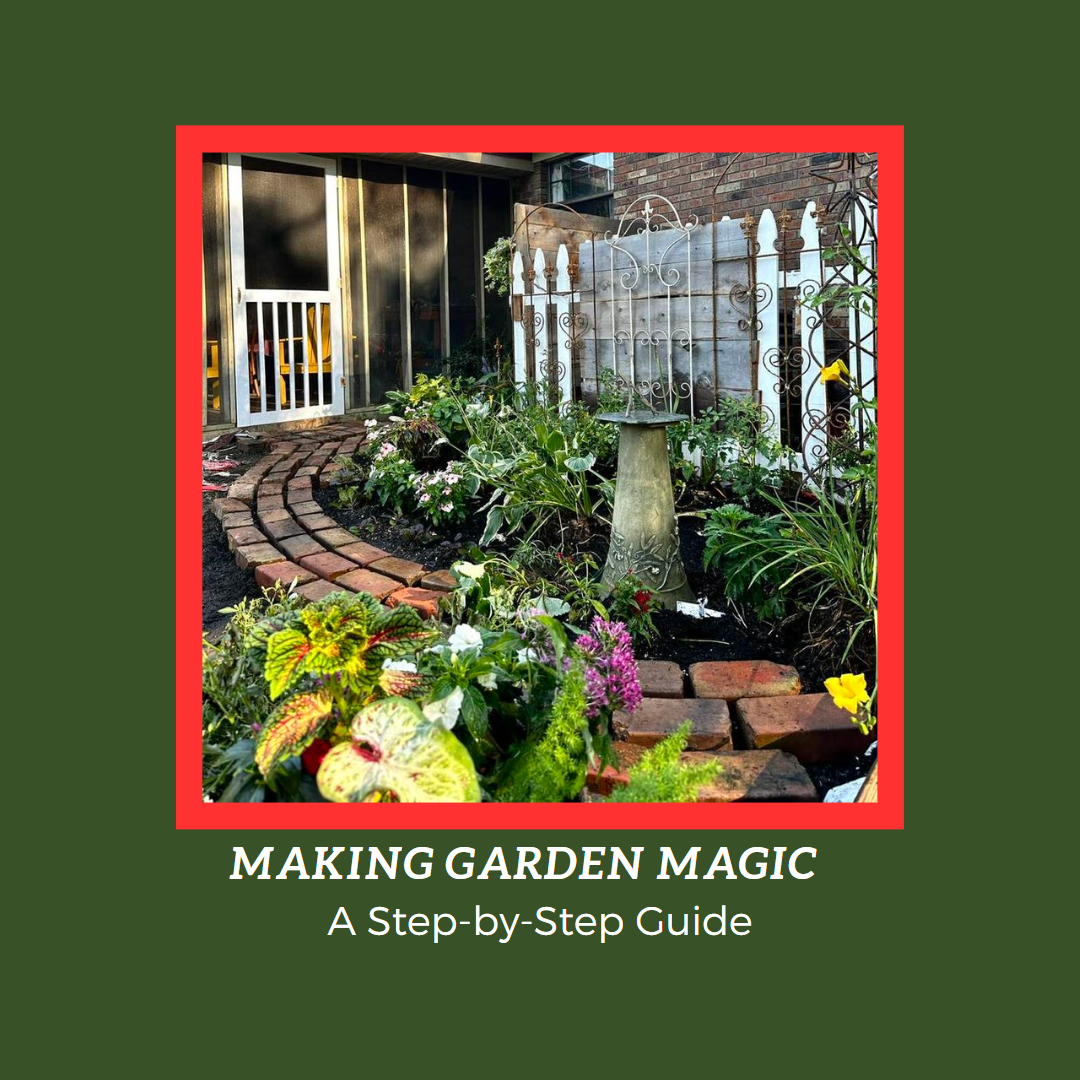 In May of 2023, I moved to a house in Water Valley, MS. Unfortunately, the house had absolutely zero landscaping.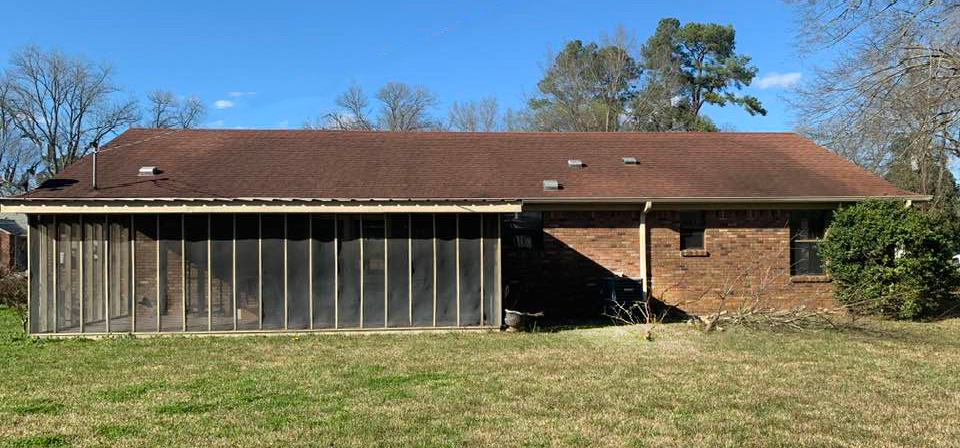 My house in Water Valley, MS, in May of 2023
If you look carefully at the photo above, you will be able to see that the issue was made even worse by an ugly air conditioner unit right outside my screened porch door. When I first moved here, I knew that my first project would be that of building a garden wall around that eyesore. You see, I am no stranger to the task of building garden walls. I created a massive garden wall in my garden in the Ozark mountains.
But my space is different at my Water Valley home. This garden wall will be much smaller than the one in the Ozarks..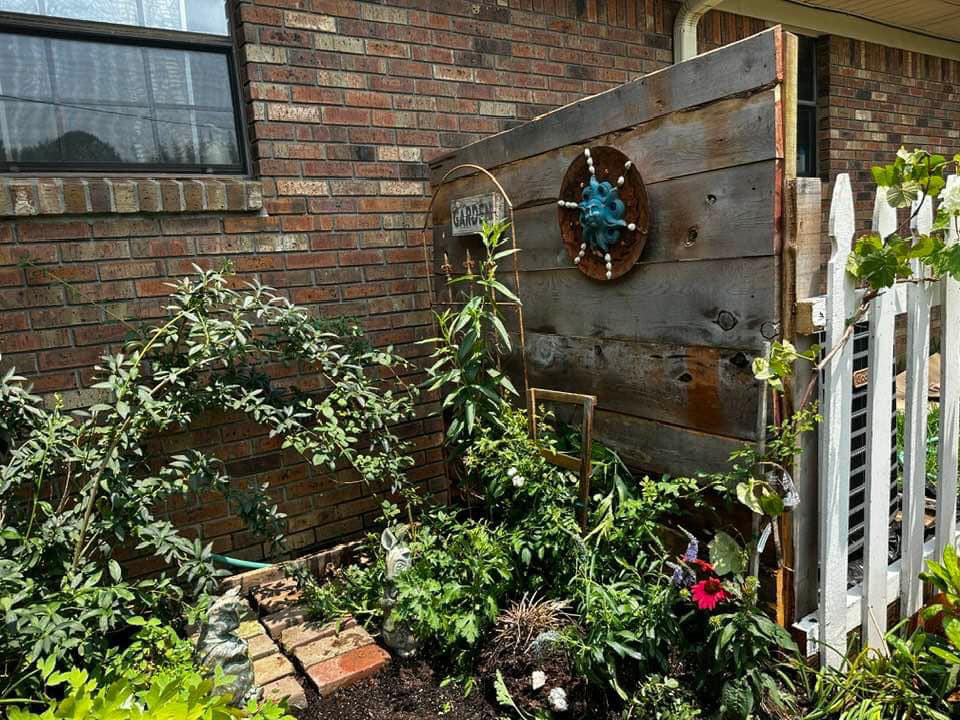 Garden Wall June 7, 2023.
I began building my Water Valley garden wall on about June 1, 2023. By June 7, I had added a few plants.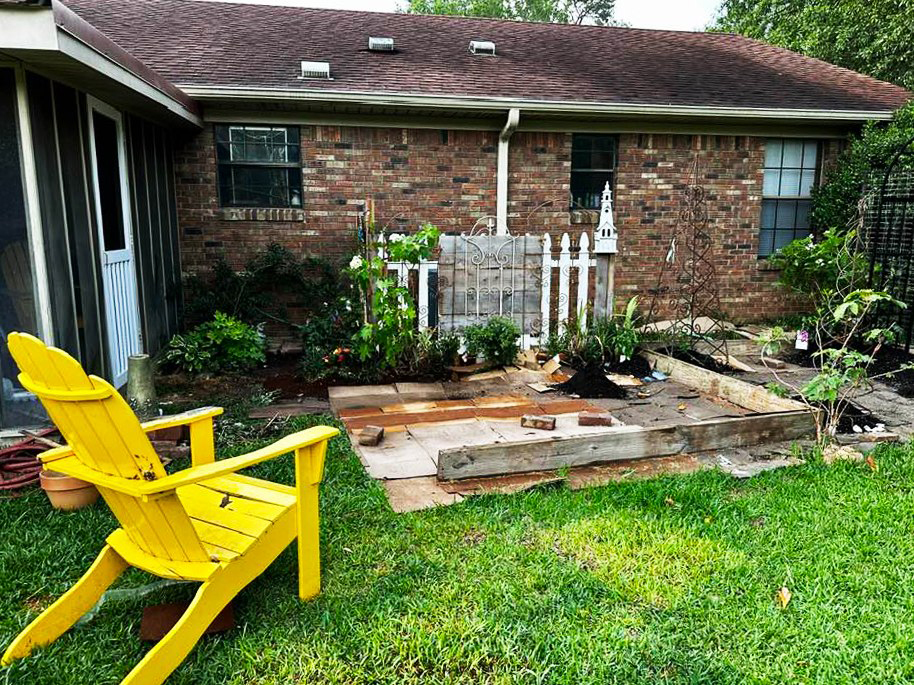 Jacki Kellum Garden June 8, 2023.
By June 8, 2023, I had covered an 8′ x 20′ area with cardboard, and I added some exterior grade 2'x8′ boards to create raised beds.
Why Use Cardboard in a Garden?
Using cardboard is a fabulous garden tip. Cardboard almost completely blocks the growth of grass and weeds, and worms love it. They come in droves to feed on the cardboard and in doing so, they continuously til and aerate the soil. A few worms ultimately turn into many worms, and voila! Your garden soil is amended.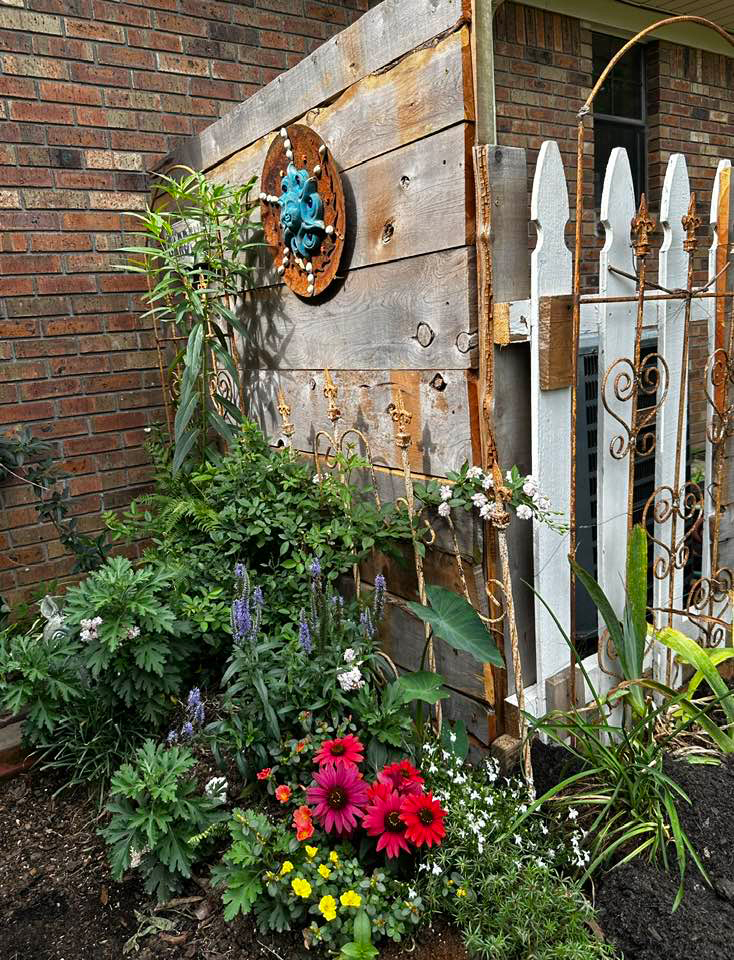 Jacki Kellum Garden June 21, 2023.
By June 21, 2023, I had added more garden soil and more plants. In the above photo, you see Heavenly Blue Speedwell, some portulaca plants [or purslane or moss flowers], white lobelia, and a Kismet coneflower. Kismets have a lower growth habit than Sombrero coneflowers, and they are more nearly a perfect red. In the back right corner, you see tall Shasta Daisy plants, and in the back left corner, you see a large forsythia plant. It arches over and hides the water hydrant on the back wall.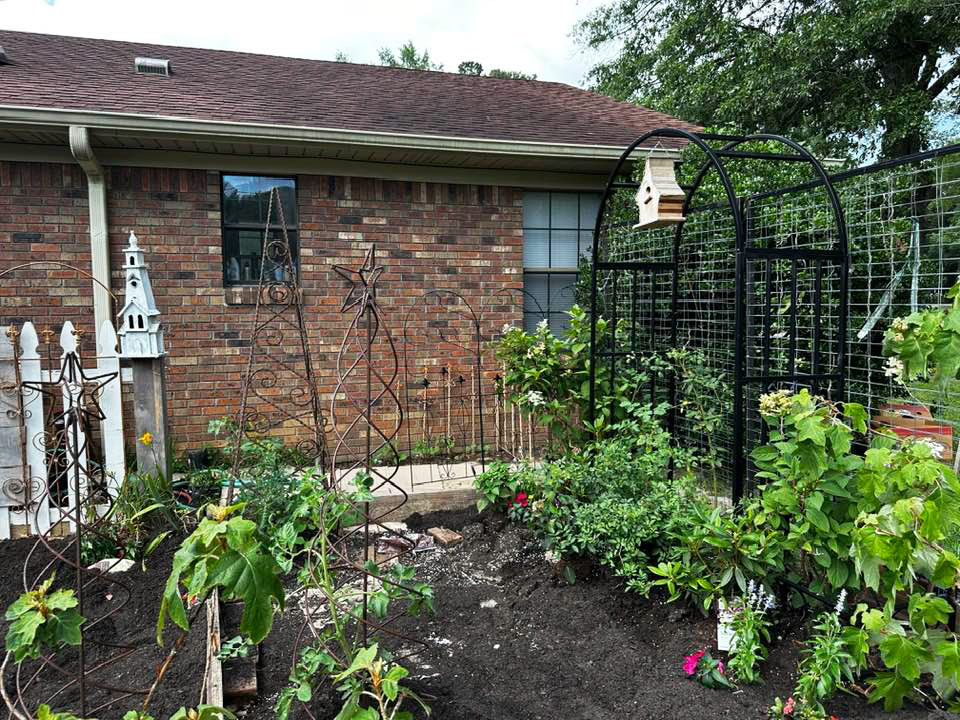 Jacki Kellum Garden June 21, 2023.
I placed larger plants at the farthest end of the garden area. I brought these larger Ooakleaf and Quick Fire hydrangeas and a climbing Zepherine Drouhin rose from my previous garden area. These larger plants are why my initial Water Valley garden efforts seem to be a more established garden area than it is. The garden wall also adds height, which also adds to the illusion that a new garden is more established than it is.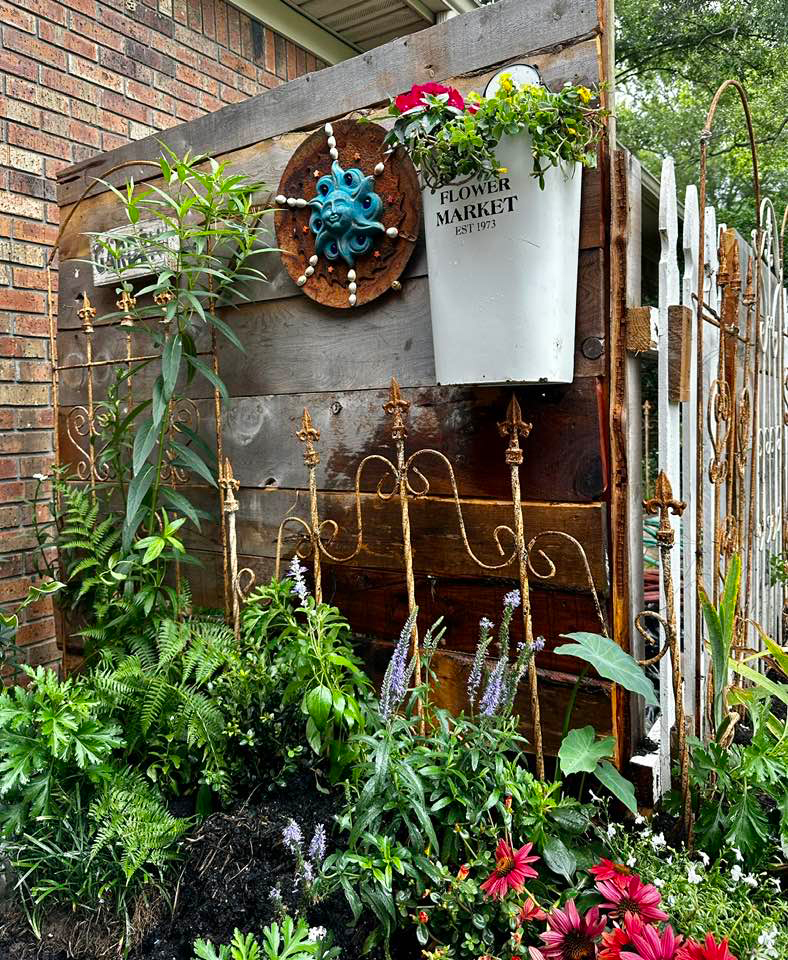 Jacki Kellum Garden June 22, 2023
In the above photo, I have turned a metal piece into a planter. To facilitate drainage, I drilled several holes in the bottom of the metal, and I added several inches of rather small rocks before I added the potting soil and the plants [portulaca, sunpatiens, and creeping Jenny]. The metal piece came from Hobby Lobby–several years ago.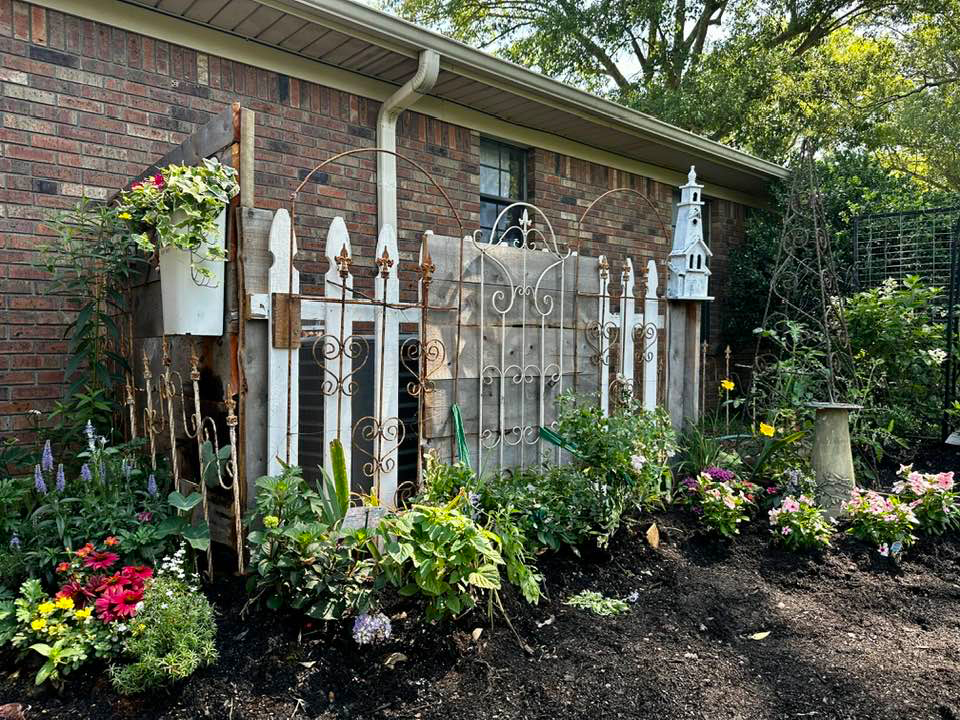 Jacki Kellum Garden June 23, 2023
By June 23, I had added variegated ivy to the metal planter, and I began adding plants to the side wall, where you see picket fence pieces. At the far left corner of the picket fence, I added a Bloomstruck Hydrangea. In the center, I added a Perfume Breeze Rose, and I added several apricot vincas.

Apricot Vincas in Jacki Kellum Garden
Add Magic Spots to Your Garden
Jacki Kellum Garden June 26, 2023 – A Magic Spot
In addition to gardening, I am also a painter. I have taught art for many years, and I repeat these words again and again and again: Find Your Magic Spot — or Make It! No Magic–Not Art [in my opinion].
I would suggest the same advice for gardeners: Make Magic Spots. In the above photo, the plants, the colors, the old iron, the bricks, and the concrete Peter Rabbit work together to make a magic spot.
Magic spots should be sprinkled throughout your garden, but you should not place more than one magic spot in one visual area. In other words, you need to move your head or your position to see each additional magic spot. Otherwise, your garden will look like a cluttered hodgepodge. Your garden needs places where your eyes will stop and rest for a while. Some of those spots should be almost prayerful. The one in the above photo is prayerful.
I Often Use Color to Create Magic Spots in My Garden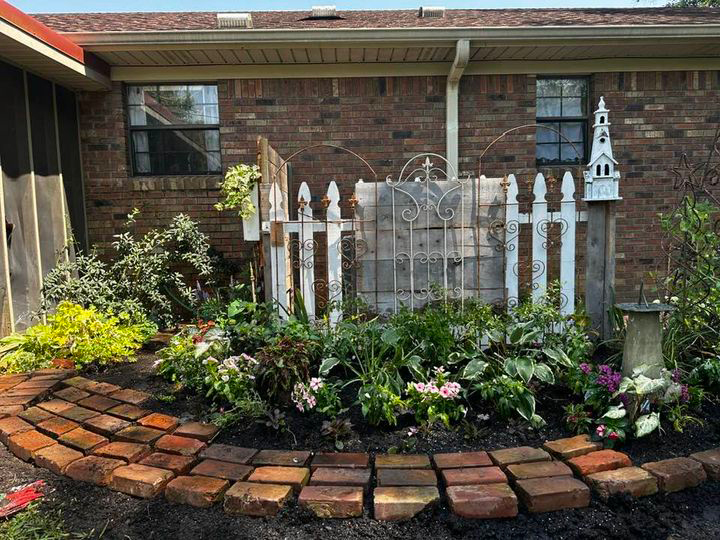 Jacki Kellum Garden June 27, 2023 – Add Some Curved Spots
One of the main characteristics of a cottage garden is a lack of rigidity. Old, formal gardens were carved into rigid squares. Paths were straight. Hedges were tightly pruned into poodle tails. Cottage gardens have always been just the opposite. For a garden to appear more natural, add curved paths. Be flexible. Breathe. Enjoy.
When I moved here, these bricks were lining several long-forgotten flower beds. I decided to start all over in those areas, and I have commandeered the bricks for walkways in this spot.
How to Make a Brick Path or Sidewalk
I simply add enough dirt to create a level surface, and I add the bricks on top  of that level area. Ultimately, I will elevate the dirt on each side of the bricks to the tops of them. This will wedge the bricks in place. After that, I'll add either dirt or concrete mix to the cracks betweem the bricks. I've done this for years.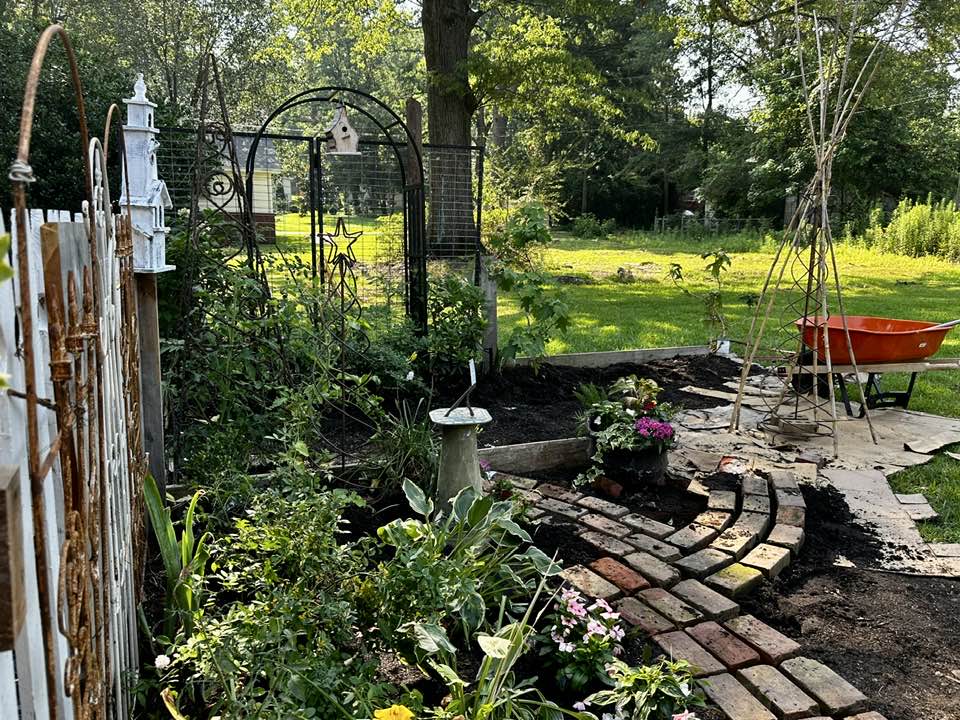 Jacki Kellum Garden June 28, 2023 – Add More Curved Spots
I added a planter to another focal point. In this planter, I added angelonia, purple pentas, more variegated ivy, a coleus, and some caladiums.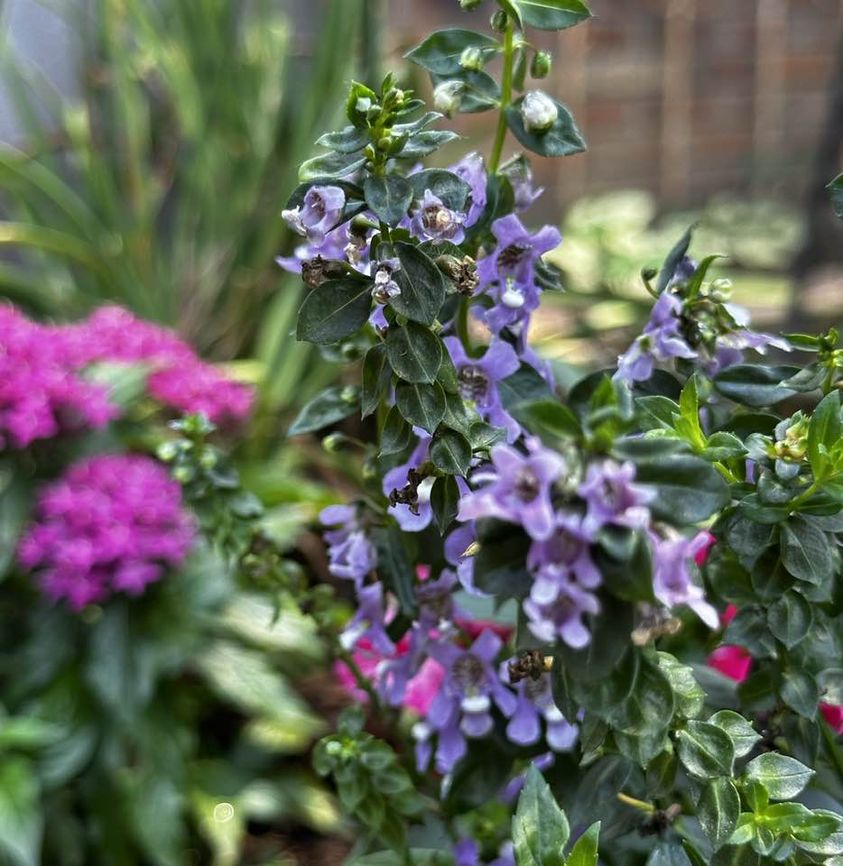 Angelonia and Purple Pentas in Jacki Kellum Garden Planter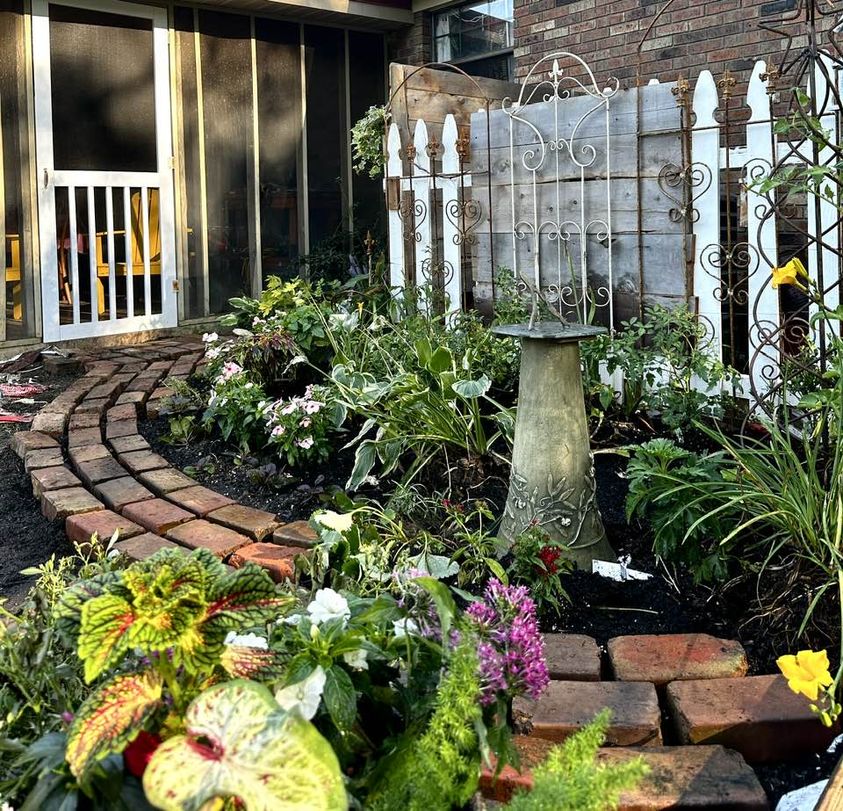 Jacki Kellum Garden June 29, 2023
I added a pink drift rose in front of the planter, and thereby, the planter itself is obscured, but because of the planter, its contents are lifted above the drift rose.
Making Garden Magic: A Step-by-Step Guide