---
I enjoy several things about gardening. I like watching things grow, and I like spending time outside in nature. But I think that I get my main enjoyments from the kaleidoscopic splashes of color that are ever-changing, according to the time during the gardening season.
Coneflower Sombrero Flamenco – June 19 – Jacki Kellum Garden
From mid-June and into later summer, my coneflowers [echinaceas] are the most brilliantly colorful touches in my garden.
I use a lot of red in my garden.
"The color red is an intense color that is packed with emotion ranging from passionate, intense love to anger and violence — representing both cupid and the devil. It is a hot, strong, stimulating color that represents excitement and energy. Studies show that the color red can create physical effects such as elevated blood pressure, enhanced libido, increased respiratory rates, enhanced metabolism, increased enthusiasm, higher levels of energy, and increased confidence.
"The color red is a highly visible color that is able to focus attention quickly and get people to make quick decisions, which is one of the reasons fire trucks and fire engines are usually painted red. Flashing red lights mean danger or emergency, while stop signs and stop lights use the color red to alert drivers about the dangers of the intersection.
"Red represents power and courage. The color red is the basis of the traditional red power tie or red suit in business, and the red carpet for celebrities and VIPs. Red's association with courage and bravery makes it a color that is used often in national flags, on shields, and in achievement patches.
"Too much red causes loss of temper, agitation, anger, and overbearing, demanding, and oppressive behaviors. Too little red causes lethargic, cautious, whiny, and manipulative feelings. To get out of control emotions under control add green, the opposite of red. To get rid of exhaustion, add more red.
"In different cultures red carries different meanings. In some cultures, red represents purity, joy, and celebration and is a traditional color worn by brides. In China, red is used for good luck and represents happiness and prosperity." Bourn Creativity
As I mentioned in the above video, I am a painter, as well as a gardener, and some of my most powerful paintings are predominantly red.
Fireball Red Hibiscus – Jacki Kellum Watercolor Painting
I especially enjoy painting flowers, and I often paint the flowers that grow in my own garden.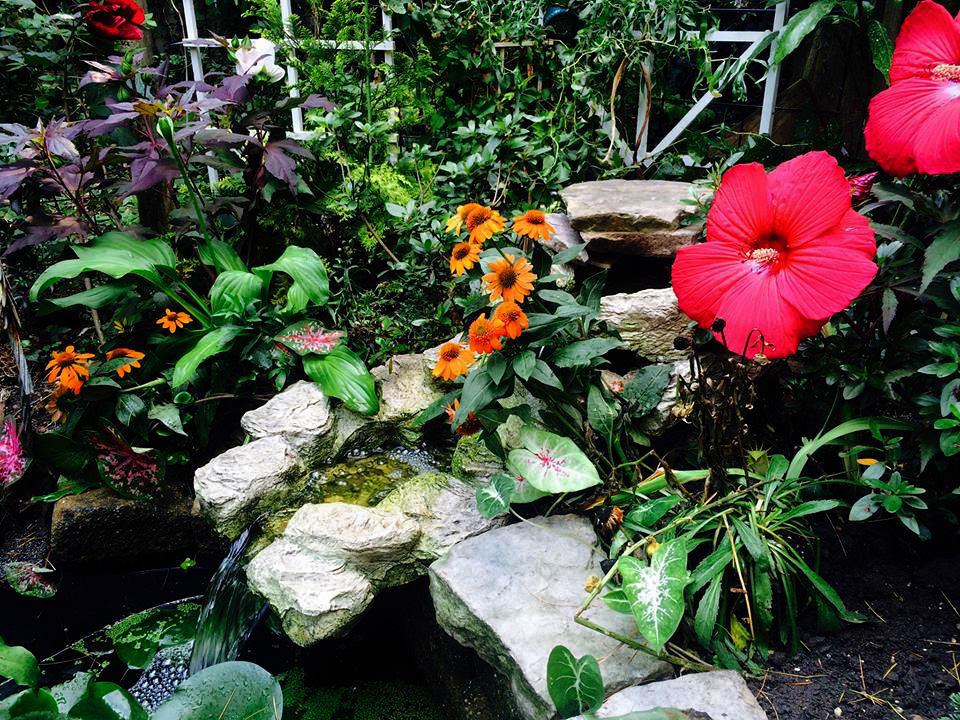 Fireball Red Hibiscus – Jacki Kellum Garden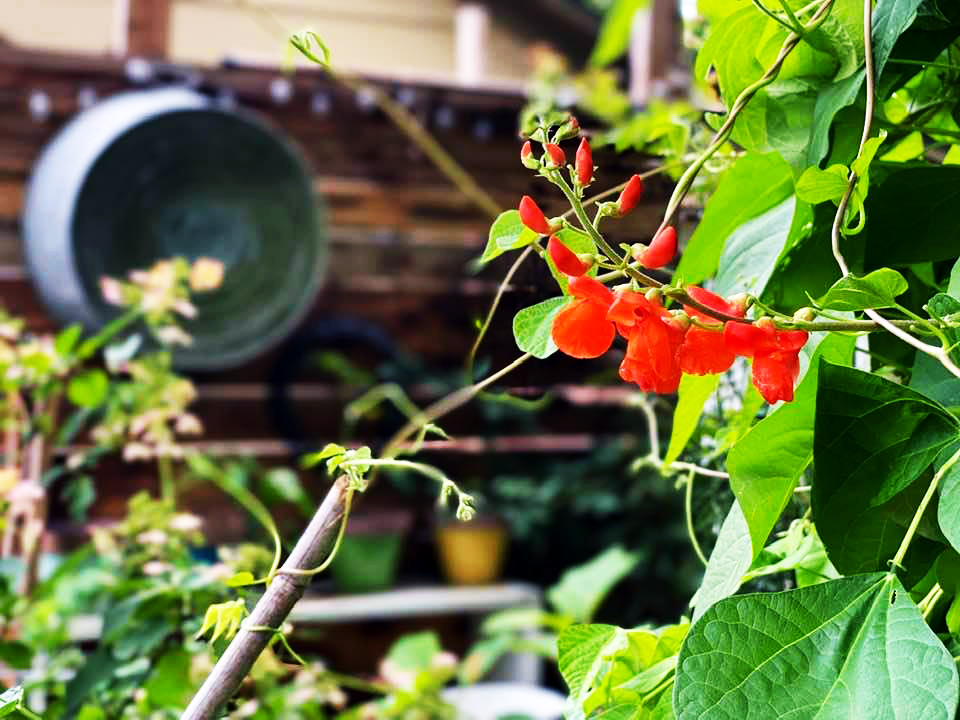 Scarlet Runner Beans – Jacki Kellum Garden
Although I plant several types of beans in my garden, I grow scarlet runner beans, primarily because of their bright red blossoms.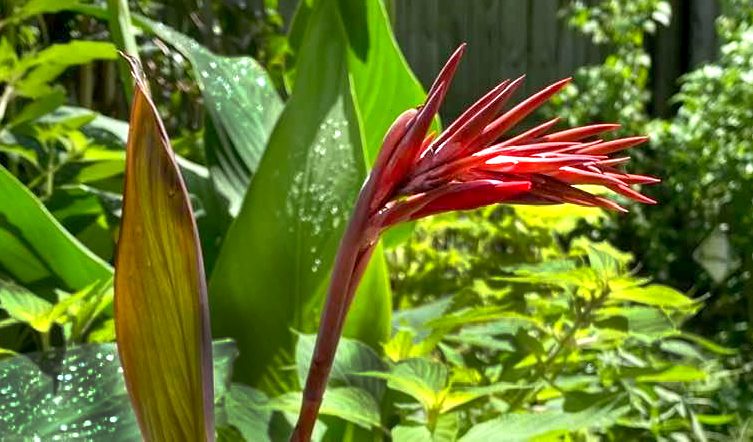 Red Canna Bloom – Jacki Kellum Garden
But before the scarlet runner beans begin blooming, my cannas loom large across my yard.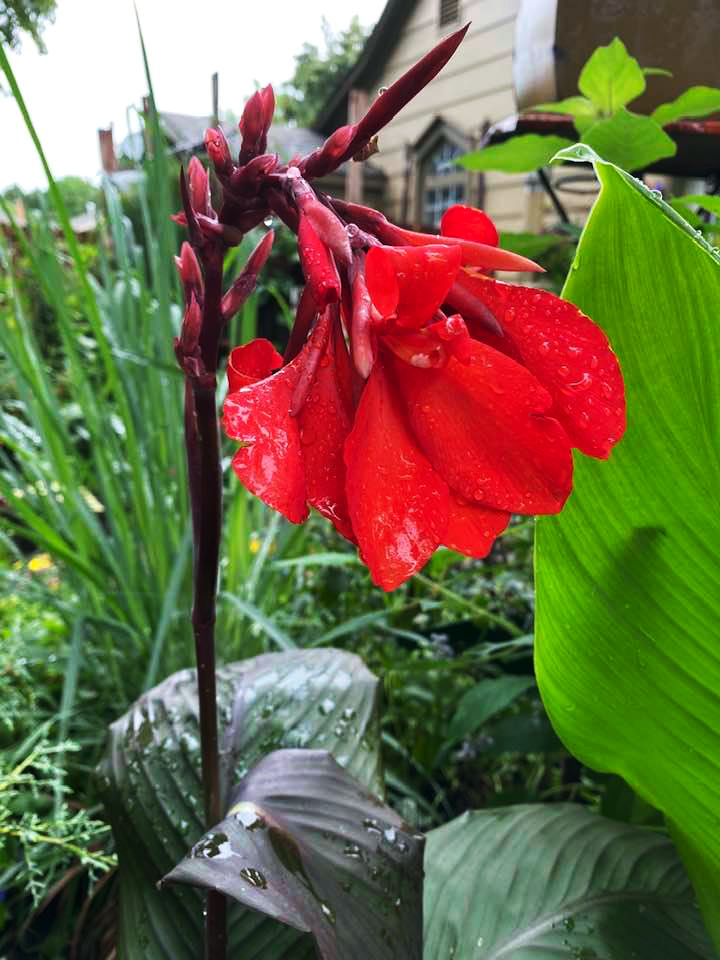 I always plant some red cannas.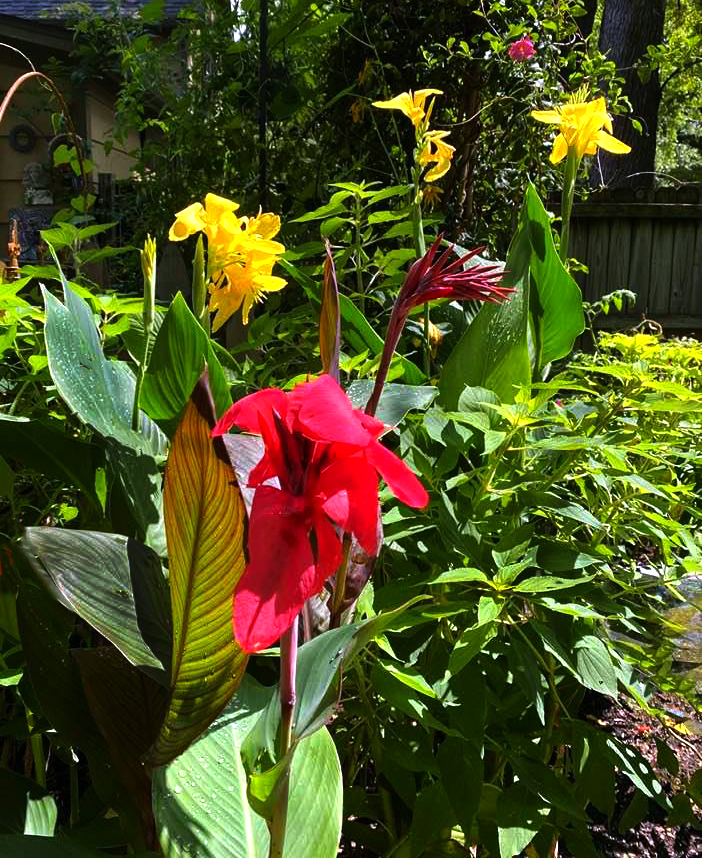 But I always plant yellow cannas, too. My yellow cannas are like gold frames. They create a backdrop and enhance the flowers around themselves.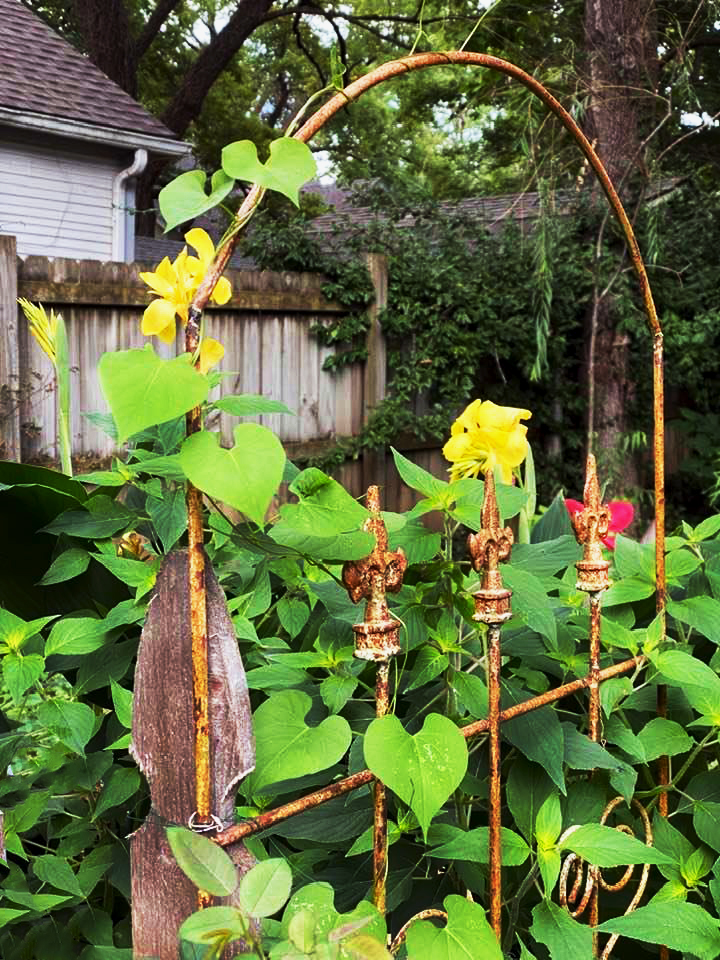 But don't get me wrong, yellow cannas are dynamic enough to make their own statements.
Yellow is a sunny, happy color. It is the color of sunflowers, and I don't know anyone who doesn't love sunflowers.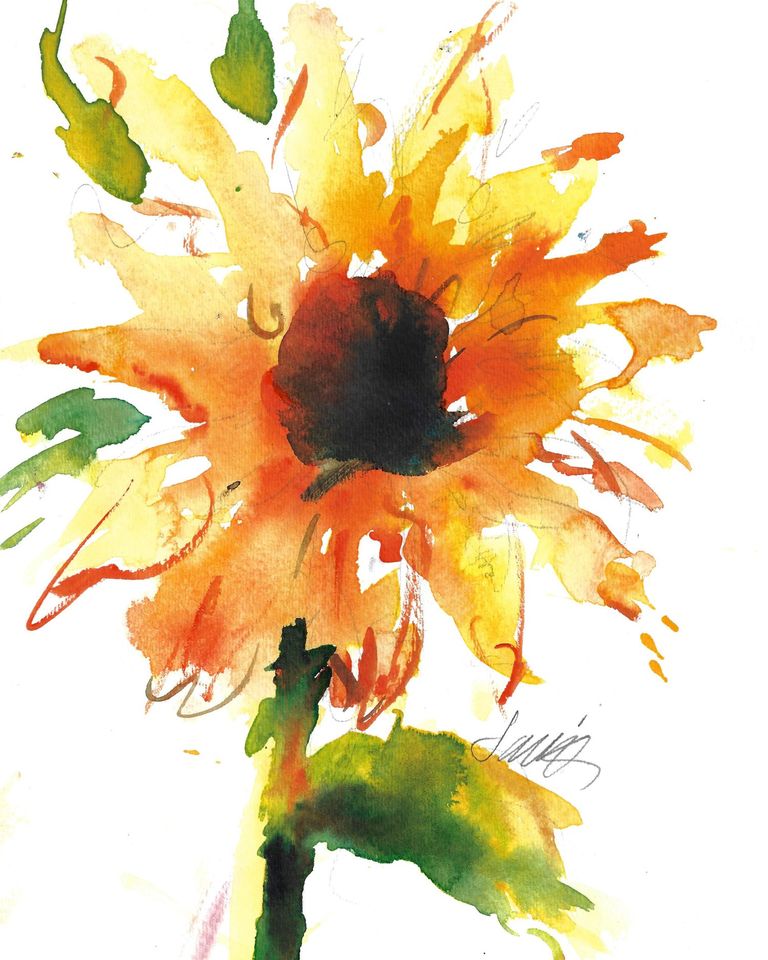 Sunflower – Jacki Kellum Watercolor Painting
Black-Eyed Susan or Rudbeckia in Jacki Kellum Garden
Yellow is one of the main colors of harvest. In fact, my yellow black-eyed Susans are the queens of my autumn garden.
Lemon Thrive Rose and Agastache in Jacki Kellum Garden
During the earlier parts of the season, I usually plant yellow in close proximity to purples or blues. Like reds and greens, yellows and purples are complements. Juxtaposed, they create a party of color.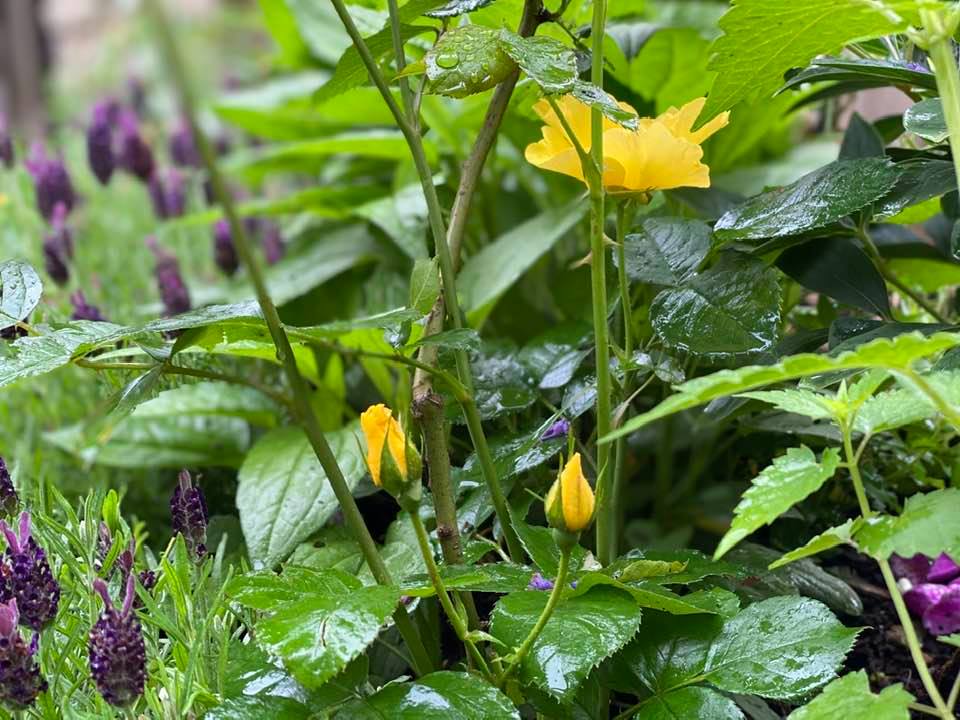 Lemon Thrive Rose and Lavender in Jacki Kellum Garden
Lemon Thrive Rose in Jacki Kellum Garden
Gene Boerner Rose – Jacki Kellum Garden
Pinks and Purples are also gorgeous when planted side by side, but the pink-and-purple combos are softer and more romantic.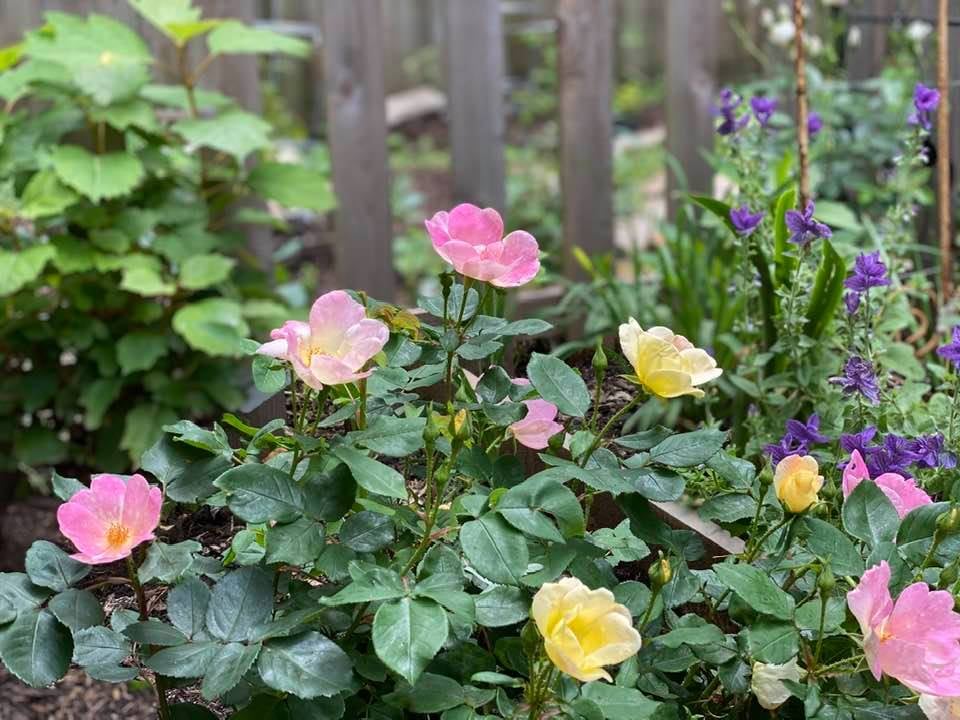 Sunburst Rose – Jacki Kellum Garden
The Sunburst Rose is a party all unto itself. It continuously shifts from yellows to pinks, and again, I also plant purples next to it.
In the above photo, you see a container filled with annuals:  purple Angelonia, pink Penta, white Scaevola Fan Flower, and the dainty and dangling Dichondra Silver Falls.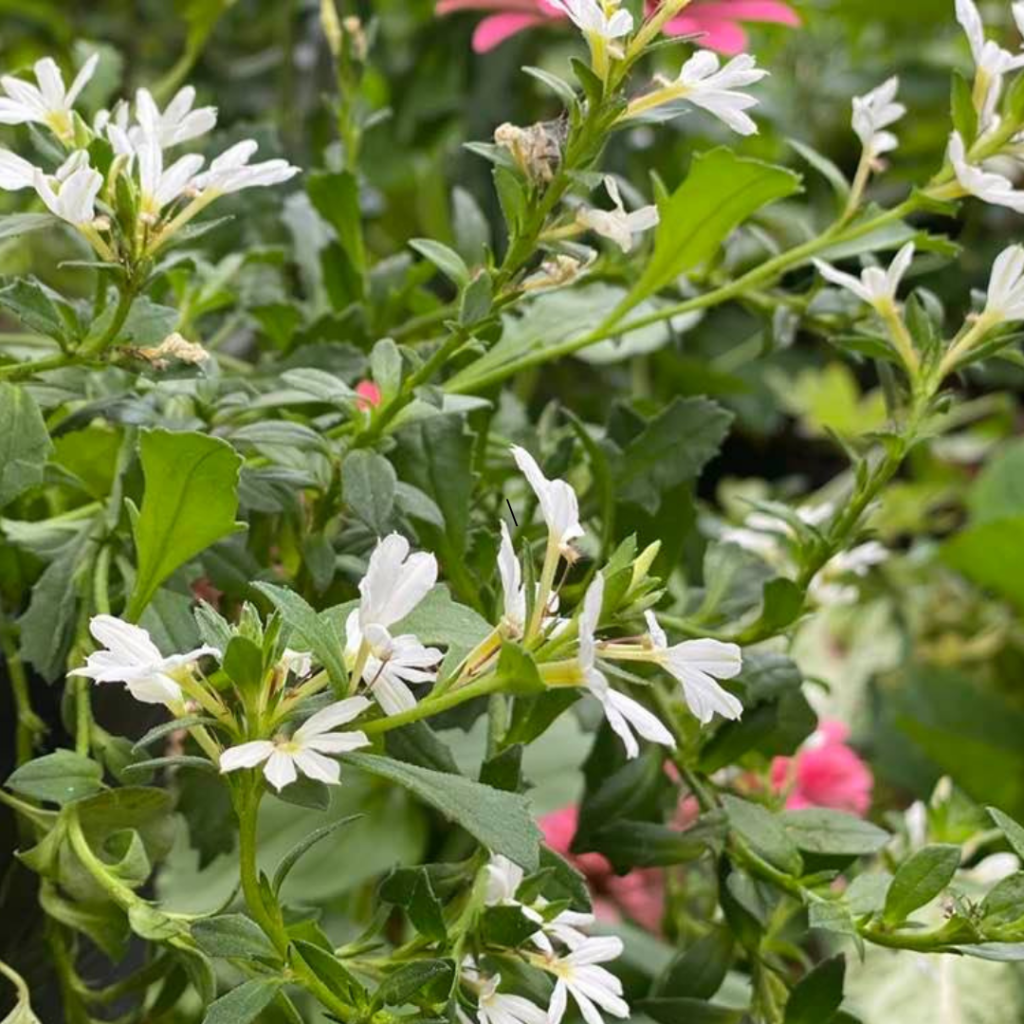 Scaevola Fan Flower- Jacki Kellum Garden
In the above photo, you are able to get a closer look at the white Scaevola Fan Flower. Notice the pink zinnias peeking from behind the Scaevola, and then, try to imagine the same photo without that touch of pink. Although pink is the least dominant color in the above photo, it is vital to the impact of the image.
Red [and pink, which is a lighter form of red or reddish violet] are complements of each other.  A complementary color adds a spark of interest, and the above photo would be rather dull without the touches of pink.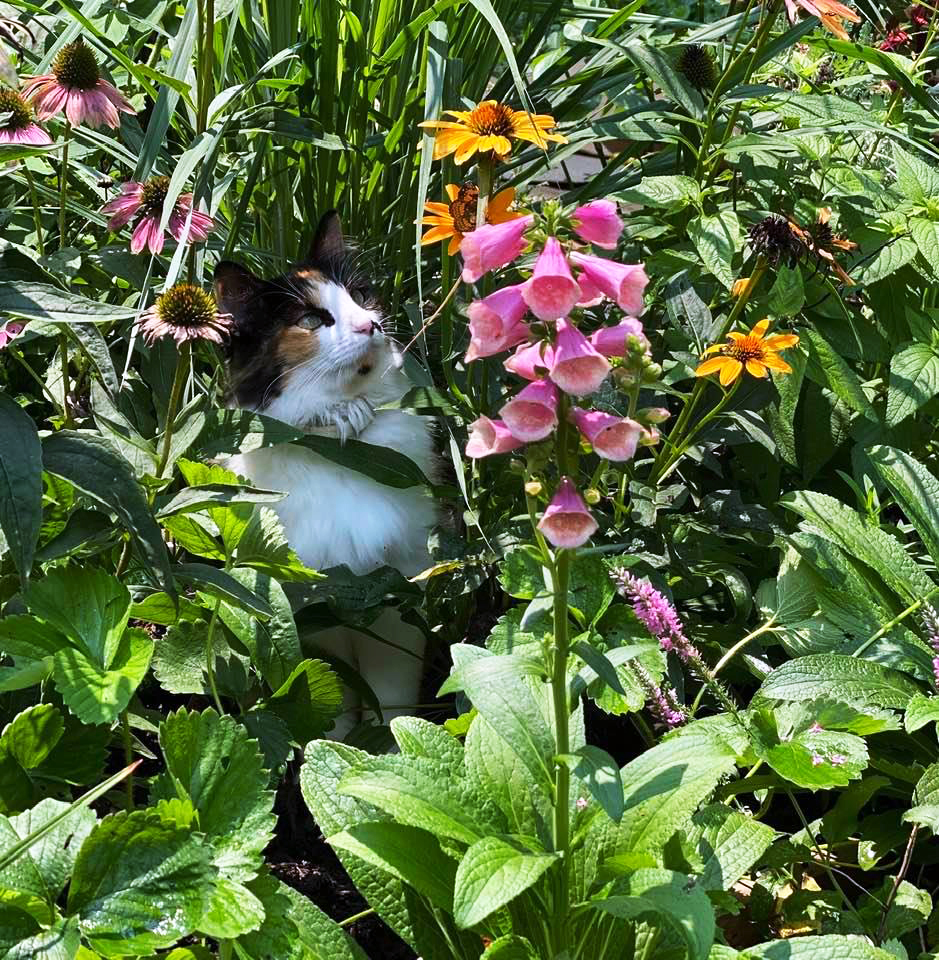 Miss Kitty and Arctic Fox Pink Foxglove in Jacki Kellum Garden
Arctic Fox Foxgloves are the most festive touches of pink in my early summer garden.
During May, my Zepherine Drouhin Roses put on a pink parade.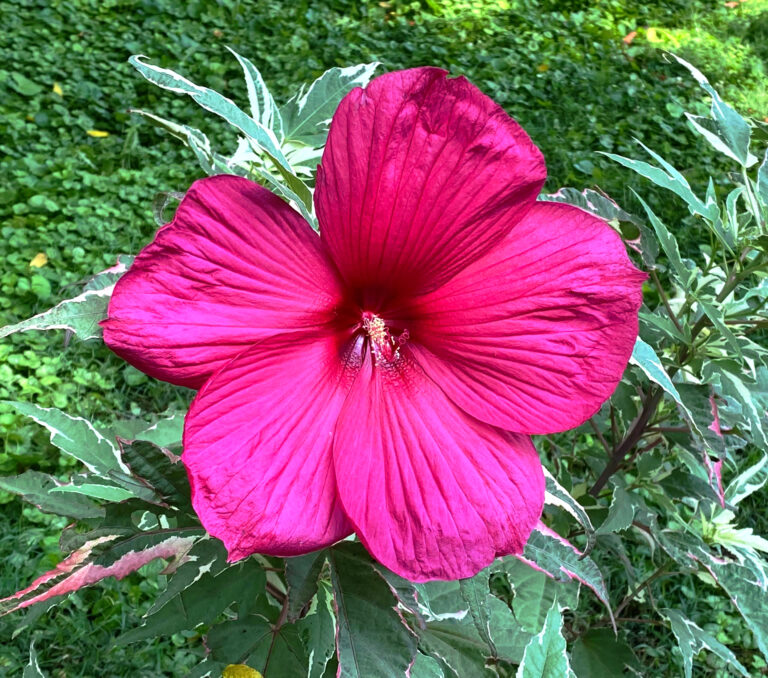 Hardy Hibiscus Summer Carnival – Jacki Kellum Garden
Summer Carnival is a fabulous pink flower in my late summer garden.
As I've already said, I plant a lot of red in my garden, but I also love pink. In fact, I probably love pink flowers more than I love the reds.
In the Pink – Jacki Kellum Watercolor
Again, pink and green are complements and when planted side-by-side, they enhance each other.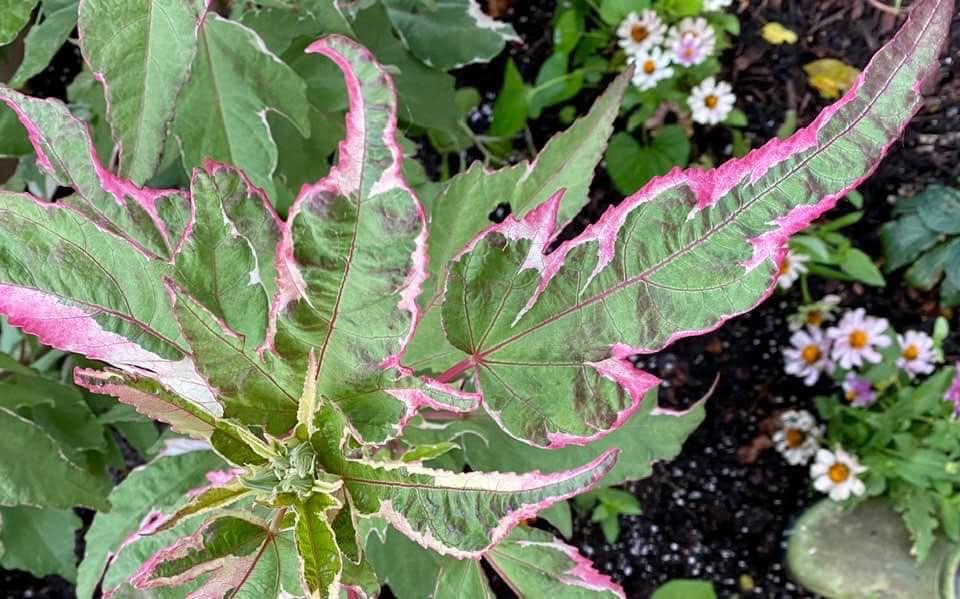 The foliage of Summer Carnival Hardy Hibiscus
Because of the juxtaposition of pink and green, I love the foliage of Summer Carnival almost as much as I love the flower.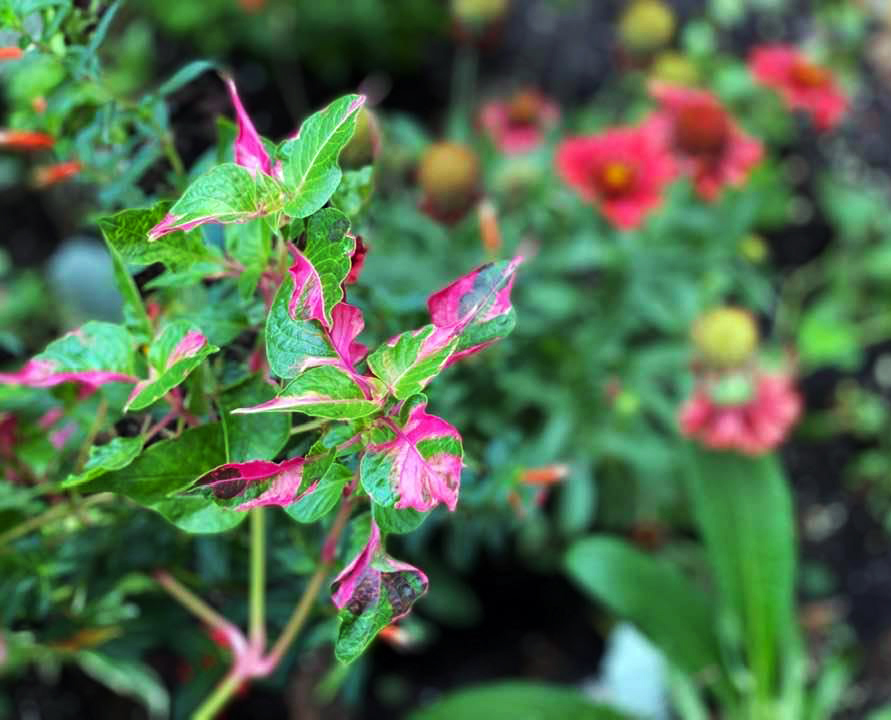 Partytime – Jacki Kellum Garden
The annual Partytime has the same pink and green juxtaposition as the foliage of Summer Carnival.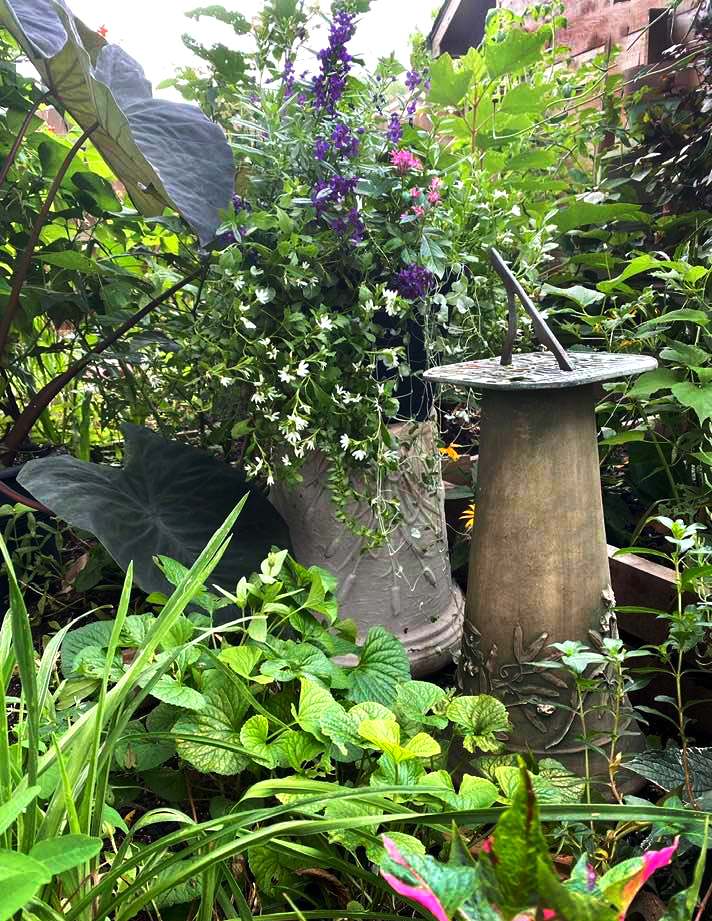 Jacki Kellum Garden – Sundial, Container of Annuals, and Black Swan Elephant Ear.  Angelonia is the purple-blooming annual that you see in the above container. In the following photo, you see the same space, but it is better lighted by the sunlight. Although the following is not a whiz-bang pop of color, it is a quietly colorful spot. The Black Swan Elephant Ear is not truly black. It is a dark, navy blue-green, but it acts in the same way that black often acts. It provides a dark backdrop that allows the other colors to make a show.
"I've been 40 years discovering that the queen of all colors was black."―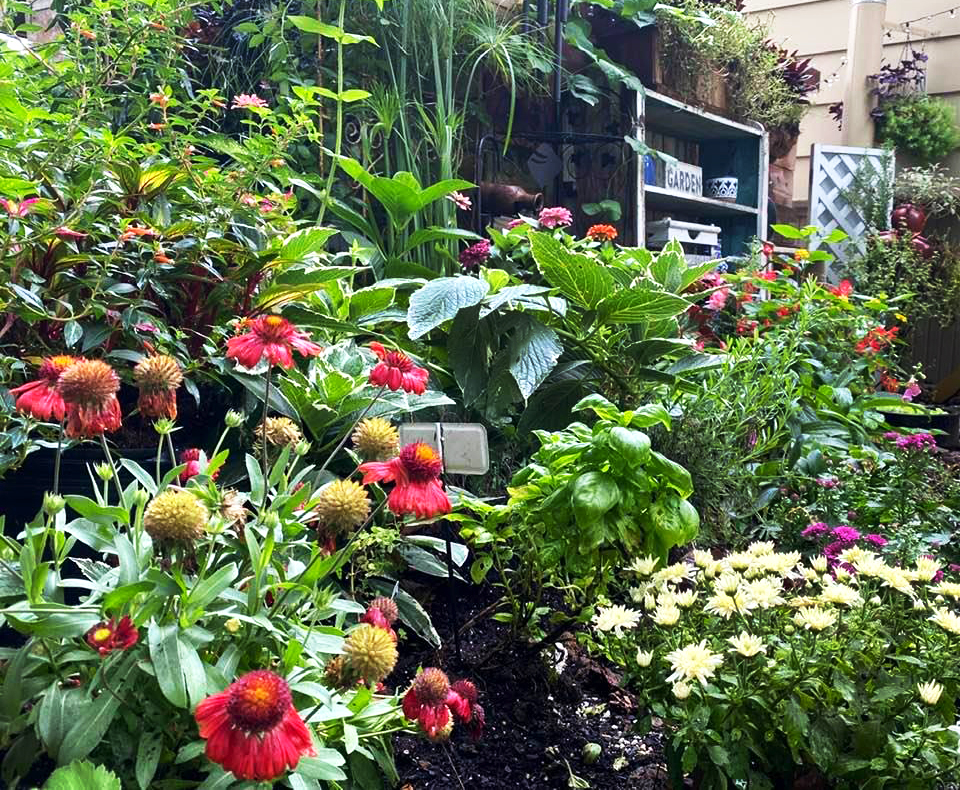 As the temperatures begin to drop, the chrysanthemums and the gaillardias begin to splash across my yard.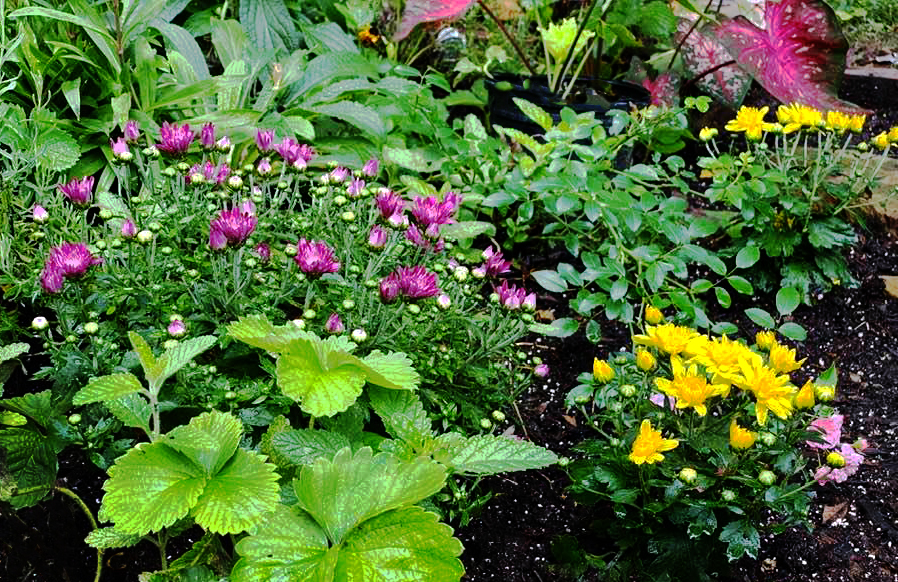 And like during the earlier seasons, I plant a variety of mums, for a carousel of autumn color, but the yellows tend to dominate the tone.
Any place that you look in my garden, you will see a variety of colors flashing ceremoniously. Next to my back door, there is a sign that says: "Life Is A Garden, Dig It." And I do dig my garden. Gardening is the way that I nourish my own soul.
Celebrating Color in My Cottage Garden