---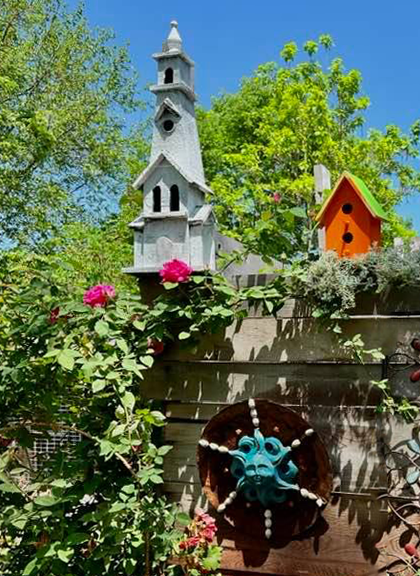 Zephirine Drouhin Rose – Bourbon Rose from France – 1868
Jacki Kellum Garden

Zephirine Drouhin [pronounced: Zeff-e-REEN Drew-HEEN] is a nearly perfect rose. It is beautiful. It climbs. It is almost disease-free. It attracts butterflies, and It produces moderately in slight shade. Although this rose is not a very fragrant specimen, I grow several plants because it has hardly any thorns at all. For that reason, I often plant Zepherine Drouhin with my climbing vegetables–like pole beans.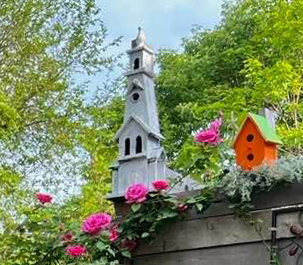 Jacki Kellum Garden
Jacki Kellum Garden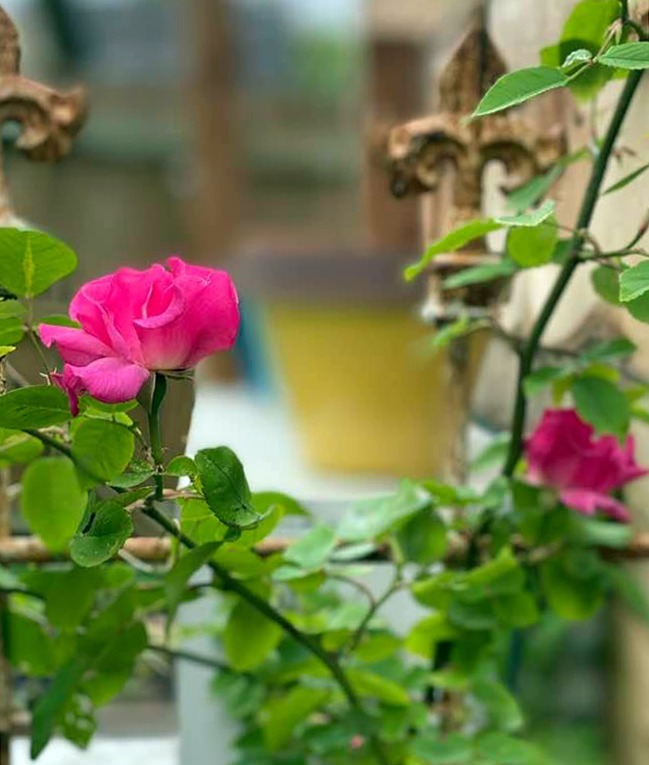 Jacki Kellum Garden
The blooms of Zepherine Drouhin are described as Cerise Pink. As an artist, I would describe the color as a vibrant, rich almost Pepto-Bismol pink. While the allusion to Pepto Bismol might be off-putting, I assure you that the color works well on this rose.
The Missouri Botanical Garden Site says the following about Zephirine Drouhin
Culture
"Best grown in medium moisture, slightly acidic, well-drained garden loams in full sun to part shade. 'Zephirine Drouhin' is noted for its shade tolerance. Best flowering and disease resistance generally occur in full sun, however. Water deeply and regularly (mornings are best). Avoid overhead watering. Good air circulation promotes vigorous and healthy growth and helps control foliar diseases. Summer mulch helps retain moisture, keeps roots cool and discourages weeds. Remove spent flowers to encourage rebloom. Crowns need winter protection in cold winter areas such as St. Louis. Remove and destroy diseased leaves from plants, as practicable, and clean up and destroy dead leaves from the ground around the plants both during the growing season and as part of a thorough cleanup during winter (dormant season). Prune as needed in late winter to early spring.
Noteworthy Characteristics
"'Zephirine Drouhin' is an old Bourbon rose from 1868. It is typically grown in two different forms: (1) large-flowered climbing rose to 12′ tall or (2) large shrub rose usually pruned to about 6′ tall. Graham Thomas expresses the opinion that this rose is best grown as a climber. Features profuse, sweetly scented, semi-double, dark pink blooms (3.5-4″ diameter) from May to frost on prickle-free canes and stems. Foliage emerges with a bronze-purple tinge, but matures to a semi-glossy rich green. Purplish canes may be quite attractive in winter after foliage drop.
Problems
"Roses are susceptible to a large number of diseases, the most common of which are black spot, powdery mildew, rust and rose rosette. Although good cultural practices are the first line of defense in disease control, regular preventative fungicide applications throughout the growing season are usually required, particularly in humid climates with regular rainfall such as the St. Louis area. Potential insect problems include aphids, beetles, borers, scale, thrips, rose midges, leafhoppers and spider mites. Local rose associations and extension services are usually able to offer specific recommendations and advice for selecting and growing roses."  Missouri Botanical Garden Here
Drouhin is stunning when it grows and blooms simultaneously with blue and purple clematis plants. In the above photo, you see one of my Zephirine Drouhin roses growing with a Jackmanii Clematis
Jackmanii Clematis growing in Jacki Kellum Garden
Zephirine Drouhin Rose is a disease-resistant climbing rose. The new growth on Zephirine Drouhin Rose is burgundy.
Spotlight on Zephirine Drouhin Rose – A Nearly Perfect Pink Climber