---
I currently live in the Ozark Mountains, but I grew up in the very flat cotton-farming countryside of the Bootheel of Southeast Missouri. That was a long time ago–a time when the kids helped pick the cotton during the fall. A cotton field in fall is beautiful, but that same field in enchanting during late summer, when the cotton plants are blooming:
A SEMO cotton plant during August.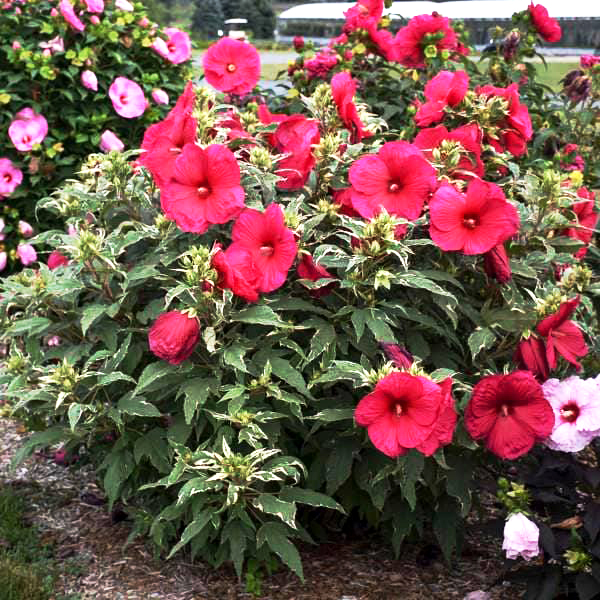 Hardy Hibiscus in Jacki Kellum's Garden
The red is Vintage Wine
The pink is Lady Baltimore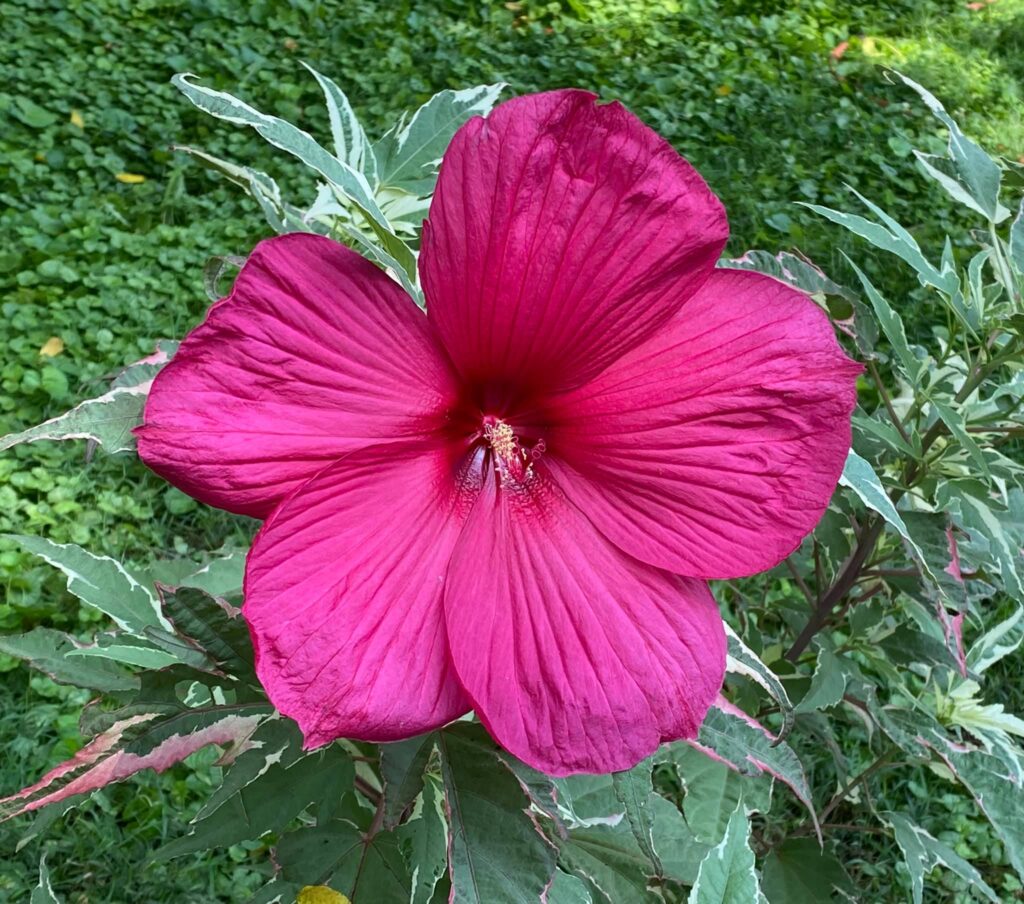 The bloom of my hardy hibiscus Summer Carnival during July of 2021.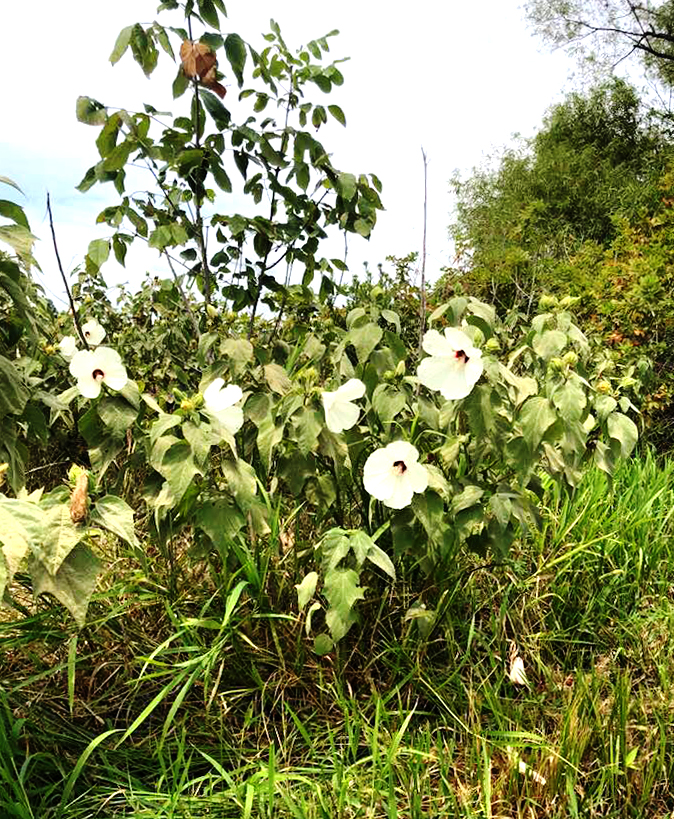 Mallow growing wild along a ditch in Southeast Missouri
It is interesting that the same type of plant grows wild everywhere you look in the area where I grew up. The mallow grows wild in tints of white and pink, and the cotton does the same. If my memory serves me correctly, the cotton also grows from a yellow blossom. Probably the same is true of the wild mallow.
I grew up just inside the town limits of my little community. It was a very small town, but at that time, the street where I grew up was gravel; there was a cotton field at the end of my street; and a cotton gin was on the street behind me–but this was considered town. The houses in my little town were built on huge lots, and my house was almost directly behind that of my grandparents.
My grandmother was an avid gardener, and she had the most glorious stand of hollyhocks that you can imagine. The old-fashioned, single hollyhocks that she grew also look like the cotton plant and like my hardy hibiscus. She also grew okra, and it has the same type of bloom, too.
All of the plants that I have named are in the mallow family. Althea or Rose of Sharon is also in that same family. The old timers in my hometown called that glorious, flowering tree-like shrub Rosie Sharn. I love that memory.
I keep a garden for several reasons, but no doubt, one of my greatest reasons for gardening is that of tying to keep my memory of my grandmother and of my homeland alive.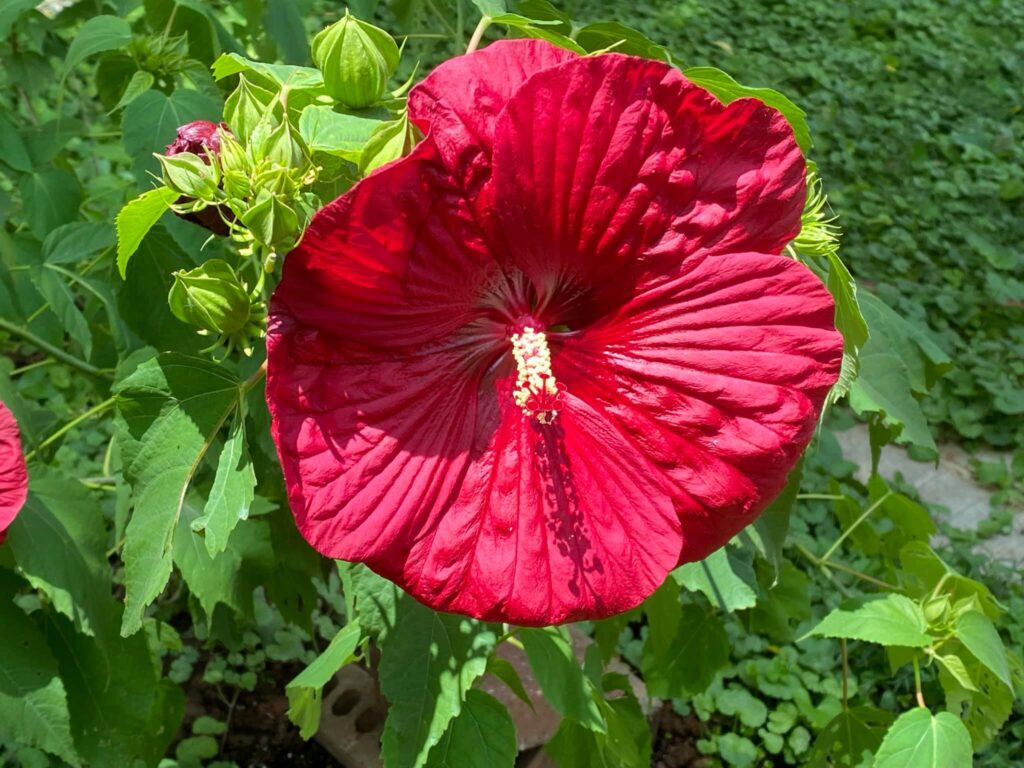 Hardy Hibiscus Vintage Wine in Jacki Kellum Garden
Hardy Hibiscus Fireball in Jacki Kellum Garden
I grow several types of hardy hibiscus, and if I fully analyzed why I do so, I am sure that I'd admit that it is largely because they remind me of my grandmother and the cotton plants in my homeland.
My Hardy Hibiscus Plants Remind Me of the Cotton Fields Back Home