This will sound nuts to some, but I have already planned my vegetable garden for next year.  You see, I have recently moved to the Arkansas Ozarks, and I left my gorgeous and spacious garden back on the East Coast. I moved just as the temperatures soared to 100 degrees, and I found it absolutely impossible to dig any holes in the bedrock soil of my new homeland. Now, that the temperatures are cooling again, I am deciding what I'll plant next spring and where I'll plant it. I have a tiny garden area in the Ozarks and every inch of soil here is like a piece of gold.
Last year, I found a plan for a little pumpkin patch alternative at Better Homes and Gardens online.
"This kid-friendly garden is filled with edible favorites, such as juicy strawberries, bright pumpkins, and luscious tomatoes along with pops of floral color from marigolds, morning glories and a giant sunflower to top it off. When planting a garden, especially one with vegetables, it is crucial to keep air circulating throughout your garden—plants like to breathe.  Interested in following this plan next season, too? Participate in crop rotation, or grow each plant in a different spot next season to trick bugs and reduce the risk of soilborne disease."  http://www.bhg.com/gardening/plans/vegetable/easy-childrens-vegetable-garden-plan/
This tiny little garden is only 6′ x 6′ but it allows room to plant some cherry tomatoes, along with the more decorative pumpkin-morning glory decorative effects.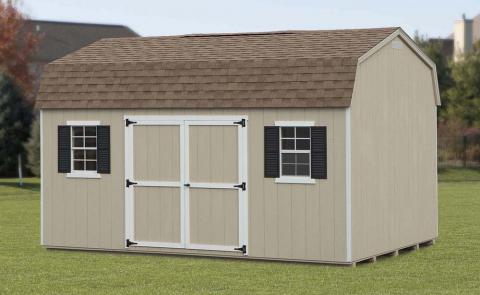 An 8′ x 16′ Dutch Barn She Shed is being built for my backyard now. The side with windows and doors [the front] will face my driveway coming down beside my house. The left end will butt up against one side of the cedar fence and the back will also butt up against the back of the cedar fence. Hence, Dutch Barn is resting in the left back corner of my yard. I plan to add the pumpkin obelisk on the right end of the barn, which will serve as an excellent backdrop for the sunflowers and the obelisk.
Sunflower with the Blues
Jacki Kellum Watercolor Painting
Sunflower Too
Jacki Kellum Watercolor Painting
One of my main purposes in gardening is to provide subject matter for my paintings, and I love to paint sunflowers. I plan to plant the sunflowers and strawberries and the cherry tomatoes–the whole nine yards, but after I decided to plant the mini pumpkins, I began to wonder what I'd do with all the little fruits of my labor. During the fall, that question is answered for me. During the fall, everywhere I look I see mini pumpkins.
The children's pumpkin garden plan calls for using mini whites, called Baby Boos, and mini oranges, called Jack-Be-Littles
 Morning Glory Heavenly Blue
The morning glory Heavenly Blue is planted to vine amongst the pumpkins.
Heavenly Blue Morning Glories remind me of my grandmother and her garden. While I truly need the space that the Dutch Barn will provide, it will work best in my yard if its architecture is softened and blended a bit into my garden. The morning glories can climb on the barn and along the cedar fence behind it. The mini pumpkins can do the same thing.
I've grown pumpkins before, and they are exciting plants to watch develop–a definite thrill for kids of all ages. This will be a great spectacle during the fall, but during the entire year, this tall garden area will be a great interlude between my house and my garden.
The mini orange pumpkins look great on wreaths, and the effect would be even better if pumpkins,  squash, and gourds were all mixed.
I am also heartened to know that mini pumpkins can also be great treats for eating.  I read that Jack-Be-Little is actually an old, revived squash plant.
You can just brush the little fruits with olive oil and sprinkle them with salt and pepper–and then roast them.
And you can serve pumpkin or butternut squash soup inside them.
Campell's makes a high-end Butternut Squash Bisque.  You could pull a true "fast" one, and just serve Campbell's in the little mini bowls that you yourself roasted.
I especially like the other food ideas that I found at:  www.thekitchn.com/what-to-do-with-all-those-mini-69921
For savory pumpkins:
Wash your pumpkins and cut off the top the same way you would a regular-sized jack-o-lantern. Scoop out the seeds, hollow out a bit if necessary and stuff with a filling of your choice. Place on a sheet pan and roast in a 350 degree oven until the flesh is soft and the filling hot. Suggested fillings:
For sweet pumpkins:
Cut off the tops a little lower down to expose a larger surface area. Scrape out seeds and use the minis the same way you would a ramekin.
fill with pumpkin cheesecake, pumpkin pie or creme brulee batter. Bake at the temperature called for in the recipe; you may have to bake a little longer as the pumpkin's sides and flesh are thicker than pumpkins. If you think you'll miss the crust on the pumpkin pie, cut decorative leaves from pie dough, bake, and use as an edible garnish.
simply dot with butter and sugar or maple syrup and bake.
bake the lids alongside the bottoms and use as a decoration on your final plating.