At my current house, I am planning to create 2 climbing rose garden areas. In my front yard, I am focusing on the pastel pinks, blues, white, etc., but in the back, I want a warmer, more typically primary-colorperennial and rose garden. I'll plant red Altissimo climbing roses and yellow Golden Showers roses, and I'll fill the flowerarea with bright and happy zinnias.  In this post I am sharing a couple of Better Homes and Gardens Free Garden Plans for brilliant and colorful gardens.
]
\
The above plan calls for red  knockout roses, but bare root roses are much less expensive choices for the garden.
Instead of the red knockout roses, I am planting bare root Miracle on the Hudson Roses, which I can buy for a little more than $5.00 per plant.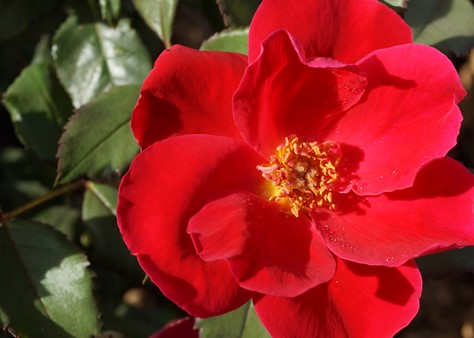 "Miracle on the Hudson™ features true red, semi double flowers that are almost 4 inches across. These flowers have a pleasant and not over whelming fragrance. The foliage emerges with hues of deep red before changing to a deep, rich, glossy green. It is the winner of the 2014 Biltmore International rose trials for 'Most Outstanding Rose.' Named to honor the heroic crew and passengers of Flight 1549, this amazing rose gives easy care color all summer long!" Hand Picked Plants
Miracle on the Hudson has an open face, and it is a small shrub that reminds me of Altissimo , which is the red climbing rose that I'll plant in my back area.
Altissimo Is A Vigorous, Stately and Regal, Red Climbing Rose
I'll also be planting Climbing Golden Showers in this back area.
Climbing Rose Golden Showers – The Perfect Yellow Climber to Add A Sunny Spot to Your Garden