This past year, my hollyhocks grew fairly well in my garden. Japanese beetles gave me fits, however, and by the end of the summer, my hollyhock leaves were dried and skeletonized. Yet, by fall, all of the old and stripped leaves were gone, and new hollyhock babies had begun to grow again. I am in the process of planting a new garden and  in a different place, and I have read that if moving hollynocks is unavaoidable, the fall is the best time to move them.  I am quite sure, however, that as I move my young plants, I'll probably move a Japanese beetle infestation with them.
Japanese beetles come from the soil, from which they emerge, mate, and begin their devestation in early summer.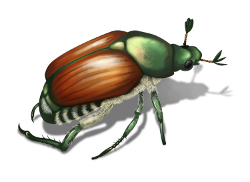 "Adult Japanese beetles can be easily identified by their coloring. The Japanese beetle has a metallic green body with copper-brown wing covers." Orkin
This past summer, I learned a crucial lesson: Japanese beetle inestation will not resolve itself. Next summer, I'll spray my garden throughly, and I'll do it  often. I have considered not transplanting anything from my current garden to my new garden spot, but I do not believe that this would completely protect me from future Japanese beetle infestation.  From what I have read, Japanese beetles are everywhere, and they are apt to find my next garden–just as they did this one.
Perhaps more than anything else,  my hollyhocks this past year were stricken by powdery mildew. One of the tenets of a cottage garden is that the plants are grown closely together. I have discovered that I need to monitor that situation more in my Southern gardens than I did in the North.  Most Southern gardens are planted in hot and humid conditions, and that is particularly troublesome when plants are crowded. 
Jacki Kellum Garden July 14, 2019
This past summer, I tried to grow mini pumpkins on my garden trellises, and that was beautiful until the latter part of July, but by August, powdery mildew had attacked my pumpkin plants and my hollyhocks, too.
Jacki Kellum Garden July 7, 2019
Jacki Kellum Garden July 23, 2019
By late July, the pumpkin plants shown above had begun spotting and by August, both my pumpkin plants and my hollyhocks were ghastly.  I should have sprayed the powdery mildew every 7 days this past summer, and I'll do better next year by beginning to spraying a fungicide this fall for next year's garden.
I typically grow old garden and heirloom roses that are resistant to powdery mildew, and my roses were hardly affected at all, but my hollyhocks were terrifly victimized.